Woodstove Glass Care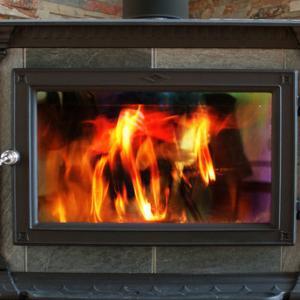 Maintaining the glass in your wood stove or fireplace can add years to their life and prolong the time before you replace the glass. Woodstove glass care includes cleaning to remove buildup. For reference, Neoceram® and PyroCeram® are commonly referred to as glass but they are actually transparent ceramics. Neoceram is 3/16″ or 5mm thick and Pyroceram is 1/8″ or 3mm thick and both are used in wood stoves and fireplaces, usually in high temperature applications.
Unlike true glass, ceramics can withstand continuous exposure to high temperatures without worry of destruction. It is also highly resistant to failure due to temperature variation. These factors make ceramics like Neoceram® and PyroCeram®, ideal solutions for many wood stoves and fireplaces where glass panels are less than 6 inches from the flames. We carry two different types of ceramic glass: Neoceram® and PyroCeram®, because their resistance to temperatures meet different needs. PyroCeram(R) can withstand long term temperatures up to 1256 deg F. NeoCeram(R) can withstand long term temperatures up to 1470 deg F.
There is nothing special about Neoceram or Pyroceram that will prevent it from becoming stained by heat or buildup inside your woodstove or fireplace. If you are having problems with the glass staining, you should consult with a local stove or fireplace shop to discuss possible causes.
Both Neoceram and Pyroceram clean easily with any standard glass cleaner or your preferred product/method you use to clean regular glass. For especially stubborn buildup, use a mild oven cleaner, cooktop cleaner, dishwashing detergent and water or a baking soda paste. Be gentle and be sure to use only a non-abrasive cloth or a paper towel. Never use abrasive powders or pads, as you'll risk scratching the glass.
Make sure to check the gasket material surrounding the glass. Over time, this gasket material will break down and begin to erode away. It is advisable to change gaskets periodically to preserve the longevity of the glass. We recommend hiring a professional to change the gasket as they will typically carry the new gasket and the wood stove glass can be broken by improper installation. (Such as over tightening of the wood stove glass clamps.)
If you need to replace your wood stove glass, please visit our online quote wizard for pricing.
Product Page
How to Select
How to Measure
Free & Guaranteed Safe Shipping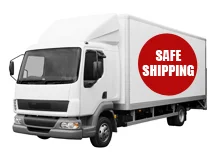 All packages are sent insured. Our standard shipping method is FedEx Ground which delivers most domestic shipments within 7 business days but in most cases we can ship as fast as FedEx Next Day Air.