How to Replace Wood Stove Glass
If you notice cracks in your wood stove glass, you'll need to replace the glass for both safety reasons and unit efficiency. Weakened areas will not hold up to the pressure and heat created inside your wood stove and may shatter suddenly. It's always important to replace wood stove glass that has been damaged.
When you replace wood stove glass, you'll need to make sure you are ordering the correct type of glass. Wood stove glass is not actually glass, but a transparent ceramic created to withstand the extreme temperatures created inside the wood stove. Once you have ordered your ceramic wood stove glass, you're ready to begin.
How to Replace Wood Stove Glass
Prepare the area around your wood stove by covering the flooring with plastic or lots of newspaper. It will likely get messy.
Clean the wood stove door, and if possible, remove and place face down on your covered flat working surface.
Remove the glass from the door, either by loosening latches or unscrewing the screws. If glass removal becomes difficult due to residue build-up, use a lubricant (WD-40 works) and some pliers to remove. If you are having trouble figuring out how to remove the glass, consult your owner's manual.
If your gasket is getting older, this is a great time to replace it. Remove the rope gasket from the door and replace it with a new one.
Set the new ceramic glass into the door and very carefully replace the catches and/or tighten the screws. DO NOT OVER-TIGHTEN. Tightening the screws too much can damage the ceramic glass. It will need some room to expand when exposed to extreme heat, and tightening the screws too much can crack the glass.
Product Page
How to Select
How to Measure
Free & Guaranteed Safe Shipping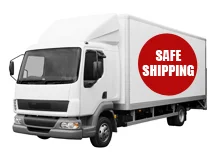 All packages are sent insured. Our standard shipping method is FedEx Ground which delivers most domestic shipments within 7 business days but in most cases we can ship as fast as FedEx Next Day Air.