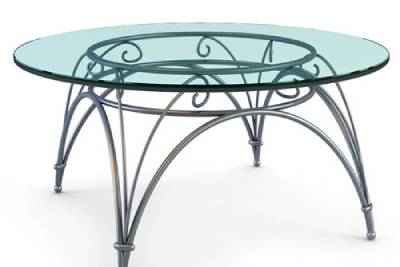 Tempered Glass Table Top
Also known as: Glass table tops, Glass table top replacement, Glass patio table, Rectangle glass table top and Round glass table tops
We fabricate flat glass to your specifications,meaning we can cut to precise measurements, drill, edge, and make any other necessary customizations to make your perfect piece of flat glass. *See FAQs below for more detail
Description
Glass Types:
Tempered glass
Thicknesses (in):

Table Top:

1/4" 3/8″ 1/2″


Covers:

3/16" 1/4″
Sizes:
Up to 60" x 96"
Shapes:
Almost any shape
Glass Tints
Many glass tint colors, etched and patterns available
Edgework:
Standard, flat, bevels and rounded pencil edge
Holes and Slots:
Cut by water jet prior to tempering
Delivery
Most custom glass orders Ship in 1-2 days
Tempered Glass Table Top Pricing
Select Glass Shape
Please choose the picture below that best describes the shape of your glass. The picture does not have to match your piece exactly. In the next few steps, you will have a chance to tell us more about your piece. What shape is your glass?
Glass Table Top Replacement
One Day Glass has the ability to create beautiful glass table tops, built to your specifications. There are several benefits to a glass table top including protection and improved aesthetics. Glass table tops can protect your furniture from scratches and possible damage.
Glass table tops are also a hassle-free way to give furniture a new look. For example, if you want to refresh an older piece of furniture without having to deal with stains or paint, glass table tops are a great option. You can use a glass table top to add the shine a stain or paint would have without the mess. A glass table top would look great on a dresser, desk, or coffee table while also making it easy to clean them.
If are you looking for a unique shape, browse the different shapes we offer in the "Get a Quote" section. If you need something else, we offer a couple of ways to help us create that for you. The best way for us to make exactly what you want, is to provide us a digital file, like a CAD drawing. You can attach this directly with your online order. We understand that sometimes it can be too difficult to create a digital file. If that's the case, we can use a physical pattern traced on sturdy paper to create your glass.
We can also cut holes in the glass to provide a pass-through for cables. This maintains a sleek and elegant appearance.
Glass Table Top Thickness Guide
3/16″ thick glass works well for a glass table top cover that rests on a table top or on lighter duty tables where the glass fits into an outside frame.
1/4" thick glass is a good thickness for heavier duty glass table top covers, standard duty tables with outside frames or smaller tables with lighter duty uses.
3/8" thick glass is good for heavier duty tables where the glass is the table top and the table top is largely unsupported.
1/2" thick glass is for heavy duty applications where the table needs to support heavier loads and the tabletop is unsupported.
Glass Weight Load Calculator
2. Dimensions
Dimensions must be provided in INCHES and Fractions of INCHES. Width is the bigger (longer) dimension; Height is the shorter (smaller). Dimensions must be provided in INCHES and Fractions of INCHES.
Inches
Fraction of an Inch
All measurements are in inches*
Width
Height

3. Glass Thickness
How thick is the glass?


Tempered glass table tops are stronger than annealed glass. It means these types of glass materials can provide better and longer protection for your furniture. They don't crack or get scratches easily which help keep its life longer.


Tempered glass is stronger than standard glass and does not shatter into large shards when broken. Tempered glass is often used in applications where using standard glass could pose a potential danger. Manufactured through a process of extreme heating and rapid cooling, tempered glass is much harder and stronger than normal glass.


When cleaning your glass table, choose a good quality glass cleaner that will not leave unsightly streaks. Use a lint-free cloth, or better yet, some crumpled newspaper or coffee filters, to wipe down the glass, taking care not to use too much of the cleaner.
If the glass is framed by wood or other non-glass material, do your best to keep the glass cleaner on the glass so you don't ruin non-glass material. Two popular products for cleaning glass include Windex and the powdered version of Bar Keepers Friend cleaner (which also works great on other various household surfaces.) Another great and chemical-free option would be to use a polishing microfiber cloth designed specifically for cleaning glass surfaces with a water spray bottle.


We live up to our name! Most orders are shipped within 1 business day after being submitted and approved. We do our best to ship orders received before 12:00pm (Noon) Pacific Time for all the same day they are ordered but generally ship no later than the next business day. If your piece is extremely labor intensive (ex. IGU, cut to a pattern), larger than 24″ x 48″, requires edgework, or an uncommon tint/thickness, it may take us extra time to get it just right.
Once your order is placed, your email order confirmation will display the estimated production time and estimated delivery dates based upon your order specifications and the delivery option chosen.


The industry-wide accepted tolerance on 1/8″, 3/16″, and 1/4″ is +/- 1/16″. This includes side shift on laminated products. The industry-wide accepted tolerance on 3/8″ and 1/2″, +/- 1/8″. This includes side shift on laminated products.


Glass thicknesses are shown as a Nominal Thickness, meaning "in name only", used solely for identification. These are commonly listed as 1/8″, 5/32″, 1/8″, 3/16″, 1/4″, 3/8″, and 1/2″. The nominal size may not match the exact thickness but will be within the acceptable industry-wide thickness range and can correspond to a large number of highly standardized dimensions and tolerances.


It is simple to measure a radius by using our radius measurement tool. Download the tool by clicking here. Print the tool. When printing please make sure page scaling is set to none. To verify you have printed the tool to the correct scale measure the 1″ Scale Line at the bottom of the page. It should measure out to exactly 1″. If it does not measure correctly please check your printer settings.
The correct radius will fill the entire curved area on the template.


A "seamed" edge is one that has been lightly sanded to remove any sharp burrs. Glass with a seamed edge is safe to handle but is not decorative. It is our standard finish and is available at no extra charge. We will never send out glass with sharp edges that you could not handle safely without being cut.
The seamed edge is recommended for all applications in which the edges of the glass are not exposed.
For example, if your glass will be installed into the frame of a fireplace door and no one will see the edges once the glass has been installed, a seamed edge is all you need.
For shelves, table tops, or the like, you may want to consider upgrading to a more finished/decorate edge.