Tempered Glass Table Top
Also known as: Glass table tops, Glass table top replacement, Glass patio table, Rectangle glass table top and Round glass table tops
We fabricate flat glass to your specifications,meaning we can cut to precise measurements, drill, edge, and make any other necessary customizations to make your perfect piece of flat glass. *See FAQs below for more detail
Description
Glass Types:
Tempered glass
Thicknesses (in):
Table Top: 1/4" 3/8″ 1/2″
Covers: 3/16" 1/4″
Sizes:
Up to 60" x 96"
Shapes:
Almost any shape
Glass Tints
Many glass tint colors, etched and patterns available
Edgework:
Standard, flat, bevels and rounded pencil edge
Holes and Slots:
Cut by water jet prior to tempering
Delivery
Most custom glass orders Ship in 1-2 days
Tempered Glass Table Top Pricing
Select Glass Shape
Please choose the picture below that best describes the shape of your glass. The picture does not have to match your piece exactly. In the next few steps, you will have a chance to tell us more about your piece. What shape is your glass?
Glass Table Top Replacement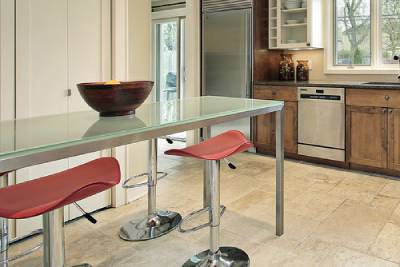 One Day Glass has the ability to create beautiful glass table tops, built to your specifications. There are several benefits to a glass table top including protection and improved aesthetics. Glass table tops can protect your furniture from scratches and possible damage.
Glass table tops are also a hassle-free way to give furniture a new look. For example, if you want to refresh an older piece of furniture without having to deal with stains or paint, glass table tops are a great option. You can use a glass table top to add the shine a stain or paint would have without the mess. A glass table top would look great on a dresser, desk, or coffee table while also making it easy to clean them.
If are you looking for a unique shape, browse the different shapes we offer in the "Get a Quote" section. If you need something else, we offer a couple of ways to help us create that for you. The best way for us to make exactly what you want, is to provide us a digital file, like a CAD drawing. You can attach this directly with your online order. We understand that sometimes it can be too difficult to create a digital file. If that's the case, we can use a physical pattern traced on sturdy paper to create your glass.
We can also cut holes in the glass to provide a pass-through for cables. This maintains a sleek and elegant appearance.
Glass Table Top Thickness Guide
3/16″ thick glass works well for a glass table top cover that rests on a table top or on lighter duty tables where the glass fits into an outside frame.
1/4" thick glass is a good thickness for heavier duty glass table top covers, standard duty tables with outside frames or smaller tables with lighter duty uses.
3/8" thick glass is good for heavier duty tables where the glass is the table top and the table top is largely unsupported.
1/2" thick glass is for heavy duty applications where the table needs to support heavier loads and the tabletop is unsupported.
Glass Weight Load Calculator
2. Dimensions
Dimensions must be provided in INCHES and Fractions of INCHES. Width is the bigger (longer) dimension; Height is the shorter (smaller). Dimensions must be provided in INCHES and Fractions of INCHES.
Inches
Fraction of an Inch
All measurements are in inches*
Width
Height

3. Glass Thickness
How thick is the glass?
Custom Glass Table Top FAQs
Why use tempered glass for table tops?
What is tempered glass?
How should I clean glass table tops?
Once I place my order, when will it ship? Will my order ship the same day?
What is your cutting tolerance?
What is the exact thickness of the glass?
How do I measure a radius?
What is a seamed edge? How do I know if I need edgework?
FREE & Guaranteed Safe Shipping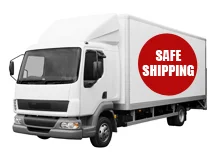 All packages are sent insured. Our standard shipping method is FedEx Ground which delivers most domestic shipments within 7 business days but in most cases we can ship as fast as FedEx Next Day Air.