Tempered Glass Decking Panels
Also known as: Glass deck railing, Glass balcony panels, Glass balusters, Glass fence panels and Glass deck panels
We fabricate flat glass to your specifications,meaning we can cut to precise measurements, drill, edge, and make any other necessary customizations to make your perfect piece of flat glass. *See FAQs below for more detail
Description
| | |
| --- | --- |
| Glass Types: | Tempered glass or tempered laminate |
| Thicknesses (in): | 1/4" 3/8″ 1/2″ |
| Sizes: | Up to 60" x 96" |
| Shapes: | Almost any shape |
| Glass Tints | Many glass tint colors and patterns available |
| Edgework: | Standard, flat, bevels and rounded pencil edge |
| Holes and Slots: | Cut by water jet prior to tempering |
| Delivery | Most custom glass orders Ship in 3-5 days |
Tempered Glass Deck Panels Pricing
We carry several different types of glass. Which one best fits your needs?
Tempered Glass

This product is used most often for shelves, some fireplaces and table tops. Tempered glass breaks into many small pieces when broken and usually never cracks.
Tempered Laminate

This is a unique product that provides the surface strength and durability of tempered glass and the security of laminated glass. Tempered Laminated Glass, if broken, will break into small pieces yet be held together. This is often used in overhead and panel applications.
Tempered Glass balcony panels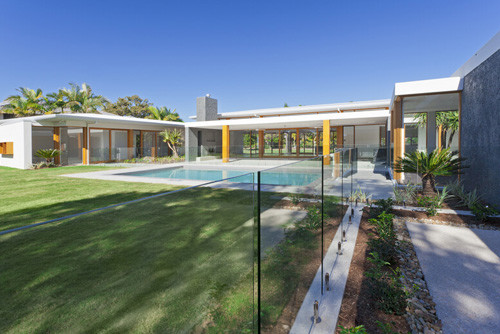 Decks are a great space for a variety of occasions, from entertaining family and friends, dining outdoors, or just relaxing and taking in a scenic sunset. People take pride in their decks and their backyards, and glass decking panels are a great way to enhance the look of a backyard.
Decking Glass panels provide an unobstructed view of your backyard while allowing more exposure to the natural environment. If you have a great scenic view or a backyard full of wonderful landscaping, decking glass panels help show that off while other railing materials just get in the way.
Glass deck panels can be customized to fit your specific needs and desired look. You can choose the size and dimensions of your glass deck panels to fit the look you're going for perfectly. There are a variety of tints, thicknesses and edgework that can be used for glass deck panels. Learn more about the safety benefits of custom tempered glass.
All glass used for deck rails must be tempered and shatter resistant. Edges should be finished and polished to make sure no one gets cut. You will want to construct your railing system first so you can take precise measurements for your custom tempered glass panels.
One Day Glass specializes in custom cut glass. We can handle a wide range of projects. If you have the measurements, we can provide the custom cut glass to fit your project.
Tempered glass panels are ideal for glass decking panels, balcony glass panels, glass balustrade, fencing a pool or for glass room partitions. Simply go to the instant online quote above and select tempered glass. You will be able to choose dimensions, thickness, tints and type of edgework.
If are you looking for a unique shape, browse the different shapes we offer in the "Get a Quote" section. If you need something else, we offer a couple of ways to help us create that for you. The best way for us to make exactly what you want, is to provide us a digital file, like a CAD drawing. You can attach this directly with your online order. We understand that sometimes it can be too difficult to create a digital file. If that's the case, we can use a physical pattern traced on sturdy paper to create your glass.
Holes and slots can be added before the glass is tempered for connecting hardware.
Custom Glass Deck Panels FAQs
What Kind of Glass Do I Need For Glass Deck Railing Panels?
How thick of glass should be used?
What is tempered glass?
What is tempered laminated glass?
How should I clean glass deck panels?
What is your cutting tolerance?
What is the exact thickness of the glass?
What Our Customers Are Saying About Us…
To say that the glass arrived safely would be a gross understatement and not nearly respectful enough considering the care and packaging that went into shipping this ~80lb piece of tempered glass. Not only was this amazingly easy to order, it was finished exactly as I requested and it fits perfectly. Thank you very much and please consider me one of your new unpaid field sales people.
Michael Carlsbad, CA
I tried the tempered glass inserts, I got from you, for my wood stove last night. What a difference it made in the amount of heat that was given off by the stove. I guess at least 25% more heat is radiated out compared to the old metals inserts that were in there before. This will save me a lot of wood over the winter. Plus, I now can see how to regulate the damper for efficiency, and enjoy the view of the burning fire. Should of done this along time ago.
Steve
Over the past few years I've just come to expect my online orders to be screwed up somehow, however, One Day Glass came through with 100% accuracy. I ordered three shelves to replace the ones that I somehow lost in a move. They could not have looked or fit better. PERFECTION, is the word I would use in all aspects of this order. The price was excellent, the online custom order form was easy to follow, the delivery time was less than one week, and three of my pieces were safely packed and in mint condition when I pulled them out of the box. I couldn't be happier with my experience, and will be recommending you to anyone looking for custom glass services. Anyone who works there obviously takes a lot of pride in what they do. THANK YOU, THANK YOU, THANK YOU! For service above and beyond the norm.
Brian & Andria Wenz Pensacola, FL
I received my order last week and just wanted to compliment your company for one of the best customer experiences I've had online. Starting with your excellent website, which was clear, informative, and easy to use, to your instant follow-up emails, progress report and tracking information, to the finished product itself, which is absolutely perfect. I've ordered a lot of stuff online, and you could definitely teach other companies a thing or two. Great job! I'll be sure to recommend you to anyone looking for custom glass.
Rick New York, NY
Your Website is the easiest I've Encountered. I'm very pleased with the service I've received from OneDayGlass.com, and the ordering process on your website is one of the best.
Larry
My glass arrived yesterday and I am absolutely thrilled with it! It replaced a coffee table glass that has been missing for 15+ years. It fit beautifully and looks stunning. Thank you for your fast delivery and superb packaging. I will recommend you highly.
Julie Pomona, CA
What a pleasure to do business with this company!! I wanted a plain beveled mirror with custom measurements. I agree the ordering process was simple and quick. We spoke to a representative asking specific questions about size and thickness. He answered all of our questions. The delivery was on time and tracked by Fed Ex. The mirror arrived perfectly packed without a problem. Best of all, the cost was much, much lower than custom mirrors I had priced and the shipping cost was worth every penny and still brought the price far below the quotes I had received from local glass companies. I highly recommend this company for its product and service.
Anonymous
Great Prices on wood stove glass! Let me begin by saying I ordered a piece of glass for the door on my wood stove from you. I shopped around before ordering for the best price. What I found baffled me. I was quoted a price locally (New Jersey) of $233.00 for the same piece of glass I ordered from you for $67.00!! The glass arrived in great shape, very carefully packaged and fit perfectly. Thanks for a great job and kudos on the price!! I'm a very happy customer and thanks again!
Bob Hill
Easy to order. You have one of the best web sites I have ordered anything through. Thank you for making this easy.
Thomas Clark
Our glass order arrived today. I want to thank you for your great service, accurate size of glass, your prompt response, and the follow-up email. Your service has surpassed all that we have seen during our recent move to the area. Thank you!
Russ & Kristine
Just wanted to let you know that my glass came in today. Everything looks really good. It fits the bar just right and the holes line up perfectly! Thanks for everything!
Enrique
I ordered 10 panes of 15″x 9″ glass to make 2 glass doors the the order came quickly the packaging was great and most importantly the cuts were exact. Locally I would have spent 2-3 times the amount charged by One Day Glass because minimal charge was for a 36×36 piece…thanx One Day. I have 3 more doors to do & you have my business
Alfred Caviel Houston, TX
Just a little note to say that my glass arrived safely yesterday. You were much faster than if I had ordered it locally where I live. Very fast shipping! Perfect cut on the glass. You guys do great work and I'm very happy I ordered through you. I would recommend your company to anyone. Very happy customer.
John Pine Mountain Club, CA
I just wanted to drop you a note of thanks for the great job you did for me. I had an emergency need for some tempered glass and all local sources indicated that it would be 7-10 days for delivery. While searching the internet, I came across your company and immediately made the call. Your representative immediately took my info and order and said I would have my items by 10:30 the next morning. I was amazed to find them here by 9:30, cut to the correct size and complete. Your service is amazing. Please accept my congratulations and thanks for a job well done. I only wish you could bottle it so it was more readily available to the rest of the manufacturing world.
Bruce Franklin, WI
I just wanted to take a moment to tell you what a pleasure it was to do business with your company. I only needed to order one piece of glass for my fireplace and your customer service rep made the whole process an incredibly smooth and pleasant one. Your prices and customer service were 'as advertised' and your reputation is well deserved. I can assure you that you will continue to serve my (or friends) needs in the future
Anthony Strongsville, OH
The glass arrived (in one piece!). It works fine. Thanks again for the prompt and courteous service. Although we hopefully won't need to replace the stove glass again for a while, I will certainly recommend you to anyone in similar need.
Jerry Kansas City, MO
Thanks for all your help. You were great.
Steve Long Island, NY
You recently processed an order for me. The Neoceram arrived on the day expected and fit perfectly. Ordering the product was quick and easy and I would order from you again if I had the need and will pass the word on to my friends.
Scott Parkville, MD
I want to first say thank you for being so courteous & helpful and also for the emails back and forth and your prompt call back to me to take our order. I think you deserve kudos for your great customer service.
Cheryl Colchester, CT
I want you to know I very much appreciate your handling of the problem I had with my glass. Thank you for your good service.
Gene Wenatchee, WA
I am writing to say thank you. We broke a window on our wood burner and I found you on the internet. The sales person that handled my phone call was knowledgeable, helpful, courteous, and efficient. My replacement glass arrived exactly when promised. I am saving your website in my favorites in case I ever need anything else.
Julia Palmyra, MI
Thanks so much for the great product and fast service. Just received the glass and it fit like a champ. EZ!
James Rochester, IL
I ordered a piece of tempered glass to replace a broken shelf in my refrigerator. I have to say that my experience with you was flawless. Ordered the glass online, and it shipped quickly and was amazingly well-packaged. The fit was spot-on as well. The next time I break something, I'll order from you again!
Jim Williamsburg, VA
I just wanted to let you know that we received the glass today. And it fits perfect…. When I say "perfect", I mean perfect….It was such a pleasant experience doing business with you and your company. Your customer service is among the best I've ever encountered! I'm now obligated to recommend One Day Glass to any and everyone that may be in the market for glass…So thanks a million!!!!
Gavin Palm Bay, FL
Hi, thanks for your excellent service and fast shipping. The replacement glass for my glass table is absolutely perfect. I would have no problem recommending your service to my friends and family. You guys are fantastic!"
Ken Redwood City, CA
The shipment arrived this afternoon and I am sooo delighted. Thank you so much for rushing this cut out right before the long three-day holiday weekend! My tiles are being installed tomorrow and it made it on time. Not only that, it is beautifully cut and polished. Thank you, thank you so much. You have out-priced and out-delivered any glass/mirror vendors that are located near me by many days!
DJ Corona Del Mar, CA
FREE & Guaranteed Safe Shipping Guaranteed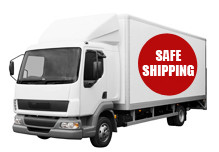 All packages are sent insured. Our standard shipping method is FedEx Ground which delivers most domestic shipments within 7 bususiness days but in most cases we can ship as fast as FedEx Next Day Air.