Tempered Glass Decking Panels
Also known as: Glass deck railing, Glass balcony panels, Glass balusters, Glass fence panels and Glass deck panels
We fabricate flat glass to your specifications,meaning we can cut to precise measurements, drill, edge, and make any other necessary customizations to make your perfect piece of flat glass. *See FAQs below for more detail
Description
| | |
| --- | --- |
| Glass Types: | Tempered glass or tempered laminate |
| Thicknesses (in): | 1/4" 3/8″ 1/2″ |
| Sizes: | Up to 60" x 96" |
| Shapes: | Almost any shape |
| Glass Tints | Many glass tint colors and patterns available |
| Edgework: | Standard, flat, bevels and rounded pencil edge |
| Holes and Slots: | Cut by water jet prior to tempering |
| Delivery | Most custom glass orders Ship in 3-5 days |
Tempered Glass Deck Panels Pricing
We carry several different types of glass. Which one best fits your needs?
Tempered Glass

This product is used most often for shelves, some fireplaces and table tops. Tempered glass breaks into many small pieces when broken and usually never cracks.
Tempered Laminate

This is a unique product that provides the surface strength and durability of tempered glass and the security of laminated glass. Tempered Laminated Glass, if broken, will break into small pieces yet be held together. This is often used in overhead and panel applications.
Tempered Glass balcony panels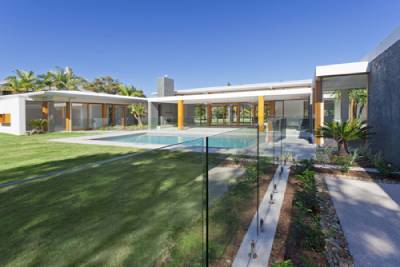 Decks are a great space for a variety of occasions, from entertaining family and friends, dining outdoors, or just relaxing and taking in a scenic sunset. People take pride in their decks and their backyards, and glass decking panels are a great way to enhance the look of a backyard.
Decking Glass panels provide an unobstructed view of your backyard while allowing more exposure to the natural environment. If you have a great scenic view or a backyard full of wonderful landscaping, decking glass panels help show that off while other railing materials just get in the way.
Glass deck panels can be customized to fit your specific needs and desired look. You can choose the size and dimensions of your glass deck panels to fit the look you're going for perfectly. There are a variety of tints, thicknesses and edgework that can be used for glass deck panels. Learn more about the safety benefits of custom tempered glass.
All glass used for deck rails must be tempered and shatter resistant. Edges should be finished and polished to make sure no one gets cut. You will want to construct your railing system first so you can take precise measurements for your custom tempered glass panels.
One Day Glass specializes in custom cut glass. We can handle a wide range of projects. If you have the measurements, we can provide the custom cut glass to fit your project.
Tempered glass panels are ideal for glass decking panels, balcony glass panels, glass balustrade, fencing a pool or for glass room partitions. Simply go to the instant online quote above and select tempered glass. You will be able to choose dimensions, thickness, tints and type of edgework.
If are you looking for a unique shape, browse the different shapes we offer in the "Get a Quote" section. If you need something else, we offer a couple of ways to help us create that for you. The best way for us to make exactly what you want, is to provide us a digital file, like a CAD drawing. You can attach this directly with your online order. We understand that sometimes it can be too difficult to create a digital file. If that's the case, we can use a physical pattern traced on sturdy paper to create your glass.
Holes and slots can be added before the glass is tempered for connecting hardware.
Custom Glass Deck Panels FAQs
What Kind of Glass Do I Need For Glass Deck Railing Panels?
How thick of glass should be used?
What is tempered glass?
What is tempered laminated glass?
How should I clean glass deck panels?
What is your cutting tolerance?
What is the exact thickness of the glass?
FREE & Guaranteed Safe Shipping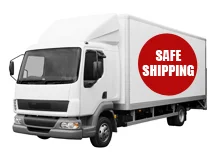 All packages are sent insured. Our standard shipping method is FedEx Ground which delivers most domestic shipments within 7 business days but in most cases we can ship as fast as FedEx Next Day Air.