Frameless Shower Doors
Also known as: Glass shower doors, Frameless glass shower doors, Frameless shower door and Custom glass shower doors
We fabricate flat glass to your specifications,meaning we can cut to precise measurements, drill, edge, and make any other necessary customizations to get started on your perfect piece of flat glass.*See FAQs below for more detail
Description
| | |
| --- | --- |
| Glass Types: | Tempered glass |
| Thicknesses: | 3/8″ or 1/2″ |
| Sizes: | Up to 60" x 96" |
| Configurations* | Shower door only, Door with panel or Panel only |
| Glass Tints: | Clear, Shower Guard Clear, Low Iron, Satin Etch |
| Hardware Finishes*: | Chrome, Brushed Nickel and Oil Rubbed Bronze |
| Hinges* | Wall Mount Offset Back Plate Hinge |
| Handle: | Shower door pull 6" or 8" |
| Towel Bar*: | 24 inch or 30 inch |
Instant Online Shower Door / Panel Pricing
Please choose the picture below that best describes the shape of your glass shelf. The picture does not have to match your piece exactly. In the next few steps, you will have a chance to tell us more about your piece. What shape is your glass?
Custom Frameless Shower Doors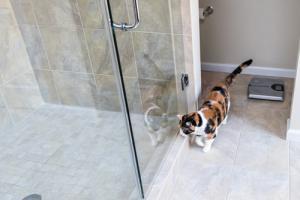 Frameless shower doors have become increasingly popular over the past few years.
When you install a frameless glass shower door, you're adding a simple upgrade that increases value and adds a bit of luxury to your home. Our glass shower doors are all custom and made to order giving you the opportunity to customize your bathroom. Adding a frameless glass shower door provides a modern look that will benefit the décor of the bathroom.
Frameless shower doors Our frameless glass shower doors add a level of beauty to a shower that simply can't be duplicated with a traditional framed shower door. Some people have concerns about the durability of a frameless glass shower door, but since they're made of tempered glass they are incredibly durable.
You can accidentally bump into your frameless glass shower door without a second worry as the door will hold up with ease.
So if you want to increase the value of your home while making your bathroom more beautiful, frameless glass shower door might be right for you
Frameless Shower Doors FAQs
Do you offer other shower configurations?
Do you offer the hardware for frameless glass shower doors?
What are the standard hardware placements?
Can I specify custom hardware placements?
What is a standard shower door width?
Can I attach glass shower panels to the ceiling?
What hardware finishes are available?
What is Shower Guard Clear ?
What is EnduroShield?
What is low iron glass?
What is your cutting tolerance?
What Our Customers Are Saying About Us…
To say that the glass arrived safely would be a gross understatement and not nearly respectful enough considering the care and packaging that went into shipping this ~80lb piece of tempered glass. Not only was this amazingly easy to order, it was finished exactly as I requested and it fits perfectly. Thank you very much and please consider me one of your new unpaid field sales people.
Michael Carlsbad, CA
I tried the tempered glass inserts, I got from you, for my wood stove last night. What a difference it made in the amount of heat that was given off by the stove. I guess at least 25% more heat is radiated out compared to the old metals inserts that were in there before. This will save me a lot of wood over the winter. Plus, I now can see how to regulate the damper for efficiency, and enjoy the view of the burning fire. Should of done this along time ago.
Steve
Over the past few years I've just come to expect my online orders to be screwed up somehow, however, One Day Glass came through with 100% accuracy. I ordered three shelves to replace the ones that I somehow lost in a move. They could not have looked or fit better. PERFECTION, is the word I would use in all aspects of this order. The price was excellent, the online custom order form was easy to follow, the delivery time was less than one week, and three of my pieces were safely packed and in mint condition when I pulled them out of the box. I couldn't be happier with my experience, and will be recommending you to anyone looking for custom glass services. Anyone who works there obviously takes a lot of pride in what they do. THANK YOU, THANK YOU, THANK YOU! For service above and beyond the norm.
Brian & Andria Wenz Pensacola, FL
I received my order last week and just wanted to compliment your company for one of the best customer experiences I've had online. Starting with your excellent website, which was clear, informative, and easy to use, to your instant follow-up emails, progress report and tracking information, to the finished product itself, which is absolutely perfect. I've ordered a lot of stuff online, and you could definitely teach other companies a thing or two. Great job! I'll be sure to recommend you to anyone looking for custom glass.
Rick New York, NY
Your Website is the easiest I've Encountered. I'm very pleased with the service I've received from OneDayGlass.com, and the ordering process on your website is one of the best.
Larry
My glass arrived yesterday and I am absolutely thrilled with it! It replaced a coffee table glass that has been missing for 15+ years. It fit beautifully and looks stunning. Thank you for your fast delivery and superb packaging. I will recommend you highly.
Julie Pomona, CA
What a pleasure to do business with this company!! I wanted a plain beveled mirror with custom measurements. I agree the ordering process was simple and quick. We spoke to a representative asking specific questions about size and thickness. He answered all of our questions. The delivery was on time and tracked by Fed Ex. The mirror arrived perfectly packed without a problem. Best of all, the cost was much, much lower than custom mirrors I had priced and the shipping cost was worth every penny and still brought the price far below the quotes I had received from local glass companies. I highly recommend this company for its product and service.
Anonymous
Great Prices on wood stove glass! Let me begin by saying I ordered a piece of glass for the door on my wood stove from you. I shopped around before ordering for the best price. What I found baffled me. I was quoted a price locally (New Jersey) of $233.00 for the same piece of glass I ordered from you for $67.00!! The glass arrived in great shape, very carefully packaged and fit perfectly. Thanks for a great job and kudos on the price!! I'm a very happy customer and thanks again!
Bob Hill
Easy to order. You have one of the best web sites I have ordered anything through. Thank you for making this easy.
Thomas Clark
Our glass order arrived today. I want to thank you for your great service, accurate size of glass, your prompt response, and the follow-up email. Your service has surpassed all that we have seen during our recent move to the area. Thank you!
Russ & Kristine
Just wanted to let you know that my glass came in today. Everything looks really good. It fits the bar just right and the holes line up perfectly! Thanks for everything!
Enrique
I ordered 10 panes of 15″x 9″ glass to make 2 glass doors the the order came quickly the packaging was great and most importantly the cuts were exact. Locally I would have spent 2-3 times the amount charged by One Day Glass because minimal charge was for a 36×36 piece…thanx One Day. I have 3 more doors to do & you have my business
Alfred Caviel Houston, TX
Just a little note to say that my glass arrived safely yesterday. You were much faster than if I had ordered it locally where I live. Very fast shipping! Perfect cut on the glass. You guys do great work and I'm very happy I ordered through you. I would recommend your company to anyone. Very happy customer.
John Pine Mountain Club, CA
I just wanted to drop you a note of thanks for the great job you did for me. I had an emergency need for some tempered glass and all local sources indicated that it would be 7-10 days for delivery. While searching the internet, I came across your company and immediately made the call. Your representative immediately took my info and order and said I would have my items by 10:30 the next morning. I was amazed to find them here by 9:30, cut to the correct size and complete. Your service is amazing. Please accept my congratulations and thanks for a job well done. I only wish you could bottle it so it was more readily available to the rest of the manufacturing world.
Bruce Franklin, WI
I just wanted to take a moment to tell you what a pleasure it was to do business with your company. I only needed to order one piece of glass for my fireplace and your customer service rep made the whole process an incredibly smooth and pleasant one. Your prices and customer service were 'as advertised' and your reputation is well deserved. I can assure you that you will continue to serve my (or friends) needs in the future
Anthony Strongsville, OH
The glass arrived (in one piece!). It works fine. Thanks again for the prompt and courteous service. Although we hopefully won't need to replace the stove glass again for a while, I will certainly recommend you to anyone in similar need.
Jerry Kansas City, MO
Thanks for all your help. You were great.
Steve Long Island, NY
You recently processed an order for me. The Neoceram arrived on the day expected and fit perfectly. Ordering the product was quick and easy and I would order from you again if I had the need and will pass the word on to my friends.
Scott Parkville, MD
I want to first say thank you for being so courteous & helpful and also for the emails back and forth and your prompt call back to me to take our order. I think you deserve kudos for your great customer service.
Cheryl Colchester, CT
I want you to know I very much appreciate your handling of the problem I had with my glass. Thank you for your good service.
Gene Wenatchee, WA
I am writing to say thank you. We broke a window on our wood burner and I found you on the internet. The sales person that handled my phone call was knowledgeable, helpful, courteous, and efficient. My replacement glass arrived exactly when promised. I am saving your website in my favorites in case I ever need anything else.
Julia Palmyra, MI
Thanks so much for the great product and fast service. Just received the glass and it fit like a champ. EZ!
James Rochester, IL
I ordered a piece of tempered glass to replace a broken shelf in my refrigerator. I have to say that my experience with you was flawless. Ordered the glass online, and it shipped quickly and was amazingly well-packaged. The fit was spot-on as well. The next time I break something, I'll order from you again!
Jim Williamsburg, VA
I just wanted to let you know that we received the glass today. And it fits perfect…. When I say "perfect", I mean perfect….It was such a pleasant experience doing business with you and your company. Your customer service is among the best I've ever encountered! I'm now obligated to recommend One Day Glass to any and everyone that may be in the market for glass…So thanks a million!!!!
Gavin Palm Bay, FL
Hi, thanks for your excellent service and fast shipping. The replacement glass for my glass table is absolutely perfect. I would have no problem recommending your service to my friends and family. You guys are fantastic!"
Ken Redwood City, CA
The shipment arrived this afternoon and I am sooo delighted. Thank you so much for rushing this cut out right before the long three-day holiday weekend! My tiles are being installed tomorrow and it made it on time. Not only that, it is beautifully cut and polished. Thank you, thank you so much. You have out-priced and out-delivered any glass/mirror vendors that are located near me by many days!
DJ Corona Del Mar, CA
FREE & Guaranteed Safe Shipping Guaranteed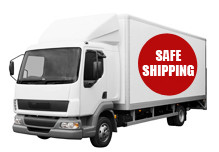 All packages are sent insured. Our standard shipping method is FedEx Ground which delivers most domestic shipments within 7 bususiness days but in most cases we can ship as fast as FedEx Next Day Air.