Specialty Edge Finishing
If you the edges are visible and you desire a more decorative finish for your glass, we offer several options:
Pencil Edge: This type of edgework results in an edge that is slightly rounded. Pencil Grind edgework has a frosty, matte, or satin finish. Pencil Polish edgework provides a glossy, shiny finish; perfect for a style when you are wanting to create an extra pop!
Flat Edge: This type of edgework results in an edge that is Flat with small chamfers on the corners. Flat Grind edgework has a matte, frosty or satin finish. Flat Polish edgework provides a shiny or glossy finish.
Bevel Edge: This type of edgework adds a sense of depth on the glass. This is often used for an ornate application. Bevel Edges have a shiny or glossy finish.
We possess state-of-the-art machinery, handled by our expert craftsmen, to fulfill almost any custom edgework request!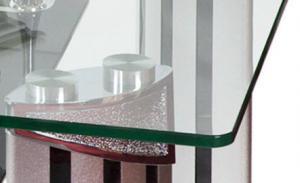 One Day Glass can put the perfect edge on your piece of glass. Whether you need standard or specialty edgework on your glass, you can be assured that each edge will be precision machined on our state of the art edging machine. Just let us know if your project requires a special edge and we'll give it a great, customized look with our quality edgework. If not, we'll still make sure you always get pieces with edges that are sanded and safe to handle.
Specialty Edgework removes any uneven appearance on the edge of the glass after it has been cut. Another benefit of specialty edgework is the enhanced appearance of the glass. Our edges are not sharp, this is true whether you choose standard edgework or specialized edgework. Specialized edgework gives the glass a great appearance.
Standard edgework is our standard finish and is included at no extra charge on all pieces. We call this the seamed edge. This is perfect for items that will be installed so that the edges of the glass will not be seen, these edges are sanded smooth so the glass is safe to handle but it is not necessarily decorative. Our standard edgework will follow industry standard tolerances.
Specialty Edgework options can be added to many pieces or shapes for an extra charge. Use the Instant Online Quote feature above to quickly estimate the cost for your specific project.
Free & Guaranteed Safe Shipping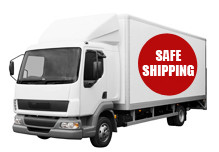 All packages are sent insured. Our standard shipping method is FedEx Ground which delivers most domestic shipments within 7 business days but in most cases we can ship as fast as FedEx Next Day Air.