Custom Glass Office Partitions
Also known as: Glass Office Walls, Glass Office Dividers, Glass Partition Walls for Office, See-through Office Walls
We fabricate flat glass to your project specifications,meaning we can cut to precise measurements, drill, edge, and make any other necessary customizations to make your perfect piece of flat glass.
Description
| | |
| --- | --- |
| Glass Types: | Tempered Glass |
| Thicknesses (in): | 1/4 is standard, 3/16 and 3/8″ available. |
| Sizes: | Up to 60" x 96" |
| Shapes: | Square / Rectangular is standard, but we can produce to almost any shape. |
| Glass Tints: | Clear as well as many glass tint colors, etched |
| Edgework: | Standard, flat, bevels and rounded pencil edge |
| Holes and Slots: | Cut by water jet prior to tempering if needed |
| Delivery | Most glass panel orders Ship in 3-5 days |
*See FAQs below for more detail
Glass Office Partition Wall Pricing
We carry several different types of glass. Tempered Glass is normally used for glass partitions in the office. Use our online pricing and ordering system. You may customize your order to your requirements. Below are the most common selections for glass office partitions.
Glass Type: Tempered Glass
Glass Shape: Square / Rectangular
Dimensions (width and height in inches) Cutting Tolerance is +/- 1/16
Glass Thickness ¼" is typically used. Other thicknesses are available.
Glass Tint: Available in clear, tints or satin etch for privacy.
Edges can be finished, ground and or polished
Fabrication: We can drill Holes, Clamp Notches, Hinge Cut-Outs, Plug Cut-outs, Finger Pulls and more
Tempered Glass Office Partitions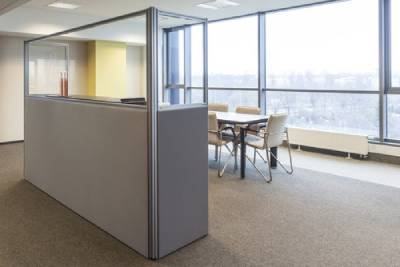 Add a protective layer between customers and employees to enforce social distancing. Our tempered glass office partitions are custom cut to fit your work area and hardware or frames requirements.
Glass panels provide better visual appeal, are easier to clean and resist scratching when compared to polycarbonate.
Many businesses are investing in glass partitions to extend the height of cubicle walls in employee work areas. Glass partitions are also being used to create efficiency and transparency in the workplace as well as opening up the office to natural light.
Custom Glass Office Partition FAQs
What Kind of Glass Do I Need For Office Partitions?
Do You Provide Mounting Hardware?
How thick of glass should be used?
What is tempered glass?
How should I clean panels?
What is your cutting tolerance?
What is the exact thickness of the glass?
FREE & Guaranteed Safe Shipping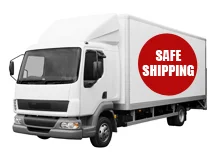 All packages are sent insured. Our standard shipping method is FedEx Ground which delivers most domestic shipments within 7 business days but in most cases we can ship as fast as FedEx Next Day Air.