Broken Window Repair
Between kids, pets, and life in general, broken windows happen. The good news is that when it comes to broken window repair, you don't have to look any further than your own two hands!
Broken Window Replacement Doesn't Have to Be Expensive
Broken window repair is a fairly simple task that most homeowners with a basic skillset can accomplish on their own. Even dual pane windows, which might seem intimidating, aren't really that difficult to repair. Ordering your own glass and doing the repair yourself can save you a lot of money.
How Difficult Repairing A Broken Window?
It's really easy. The most difficult step in broken window repair is the measuring. (If you need help with measuring.) Removing the bead strip around the frame so you can measure the glass takes only a few minutes.
Next you'll need to order your glass. When looking for replacement glass, consider choosing tempered glass over the standard annealed glass. Tempered glass offers superior strength and reliability to prevent cracking and provides an extra measure of safety if your window does break. Tempered glass will not leave dangerous sharp shards when broken.
Finally, when your broken window repair replacement glass arrives, you'll remove the bead strip again, carefully remove the old broken window, place the new glass, and replace the bead strip by hand to hold and seal the window into place. It's that easy.
Ready to Order Your Tempered Glass?
You can get a FREE online quote for your custom-sized window by filling out the form. One Day Glass has the fastest turnaround time of any online glass company, shipping in as little as one day for some orders.
Free & Guaranteed Safe Shipping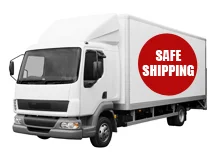 All packages are sent insured. Our standard shipping method is FedEx Ground which delivers most domestic shipments within 7 business days but in most cases we can ship as fast as FedEx Next Day Air.