Fireplace Glass
Most gas fireplaces are enclosed with tempered glass, which can tolerate temperatures up to 400-500 degrees Fahrenheit. These are often fireplaces where the doors are a safe distance from the flames. If you have a woodstove, you will likely need to use a ceramic glass for the doors. We offer NeoCeram or PyroCeram for such instances, as they can withstand temperatures over 1,200 degrees Fahrenheit.
We can replace your fireplace glass tailored to your specifications
~OneDayGlass
When the glass in a fireplace door breaks, it is often difficult to find a replacement straight from the original manufacturer. Most of the time it's because the manufacturer does not sell replacement fireplace glass or has stopped carrying the specific model of fireplace. We specialize in providing custom glass for all your replacement glass needs. We can replace your fireplace glass tailored to your specifications. Soon you'll be back to enjoying the comfort of watching the fire burn in your fireplace.
Helpful tip: Keeping the glass in your fireplace clean is important for making sure your home gets the full effect of the beauty of the flames. A cheap and efficient way to clean your glass, without leaving a residue is to make a mixture of water and white vinegar. Simply use this solution like you would any other glass cleaner to keep your glass as lovely as the day you installed it.
Free & Guaranteed Safe Shipping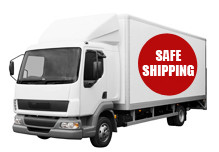 All packages are sent insured. Our standard shipping method is FedEx Ground which delivers most domestic shipments within 7 business days but in most cases we can ship as fast as FedEx Next Day Air.