Custom Glass Products
With all the experience and technology we have access to we have to ability to create a wide array of custom glass products in order to help you with your glass needs.
Custom Mirrors
Mirrors are wonderful in helping a room look bigger or providing more light, or creating more appeal to the décor. For instance using a large mirror in a small room creates the illusion of depth, giving the room a much roomier feel.
Fireplace Glass
Most fireplaces are enclosed with tempered glass, which can tolerate temperatures up to 400-500 degrees Fahrenheit. These are often fireplaces where the doors are a safe distance from the flames.
Glass Shelves
Glass shelves can add beautiful accents to home or office. If you are looking for a clean and modern way to add storage without adding a cluttered look, glass shelves might be the way to go.
Glass Tabletops
If you are either looking to replace a broken tabletop or create a new table, One Day Glass is the perfect place to get it.
Sealed Window Units
Whether you are a home owner looking to put new windows in your home, or a contractor looking for a large number of units, we have you covered.
Woodstove Glass
We specialize in providing wood stove glass doors tailored to your specifications. We use NeoCeram and PyroCeram, glass-ceramics, that can tolerate exceptionally high temperatures and maintains high thermal shock resistance.
Deck Glass Panels Glass deck panels are a great way to enhance the look of a backyard. They provide an unobstructed view of your own yard or a natural scenic view.
Glass Shower Doors
Frameless glass shower doors add a level of beauty to a shower that simply can't be duplicated with a traditional framed shower door. Made with 3/8" or 1/2″ Tempered Glass, with a selection of hardware.
Free & Guaranteed Safe Shipping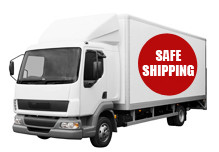 All packages are sent insured. Our standard shipping method is FedEx Ground which delivers most domestic shipments within 7 business days but in most cases we can ship as fast as FedEx Next Day Air.