Custom Glass Products
With all the experience and technology we have access to we have to ability to create a wide array of custom glass products in order to help you with your glass needs.
Custom Mirrors

Mirrors are wonderful in helping a room look bigger or providing more light, or creating more appeal to the decor.

Fireplace Glass

Most fireplaces are enclosed with tempered glass, which can tolerate temperatures up to 400-500 degrees Fahrenheit.

Glass Shelves

Glass shelves can add beautiful accents to home or office.

Glass Tabletops

If you are either looking to replace a broken tabletop or create a new table, One Day Glass is the perfect place to get it.

Sealed Window Units

Whether you are a home owner looking to put new windows in your home, or a contractor looking for a large number of units, we have you covered.

Woodstove Glass

We specialize in providing wood stove glass doors tailored to your specifications. We use NeoCeram and PyroCeram, glass-ceramics, that can tolerate exceptionally high temperatures and maintains high thermal shock resistance.

Deck Glass Panels

Glass deck panels are a great way to enhance the look of a backyard. They provide an unobstructed view of your own yard or a natural scenic view.

Glass Shower Doors

Frameless glass shower doors add a level of beauty to a shower that simply can't be duplicated with a traditional framed shower door.

Custom Glass Projects

When you need your custom glass solution done right. When you need it right now and at a great price. You need One Day Glass.

Fire Rated Glass

Fire rated glass is used in building doors and windows and can help keep flames and smoke from spreading from one room to another.

Glass Office Chair Mats

Custom tempered glass chair mats give you a fashionable contemporary look in your office.
Free & Guaranteed Safe Shipping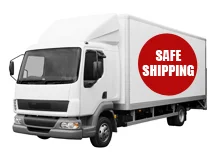 All packages are sent insured. Our standard shipping method is FedEx Ground which delivers most domestic shipments within 7 business days but in most cases we can ship as fast as FedEx Next Day Air.