Custom Glass Whiteboard
We create custom whiteboards out of glass at whatever height, width, and thickness you need.
Transform your workspace with an upscale designer glass dry erase board. Create endless possibilities with a custom glass whiteboard made to your size, shape and thickness needs.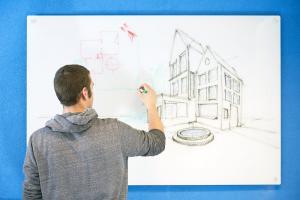 A beautifully tempered and finished glass whiteboard is perfect for use with dry-erase markers. Glass whiteboards have been quickly growing in popularity over the past few years, with consumers increasingly favoring their unique texture and excellent writing surface.
Tempered Glass for strength and durability.
Available in clear or white.
Erasing is effortless and will not stain or ghost
Frameless design blends into any office, conference room or boardroom.
Customize shape, dimensions, thickness (1/4" – 1") and edge finish
Add holes and cutouts to fit most any application.
Pricing and Ordering
To get started with instant pricing and online ordering click here.
Glass Whiteboard: Opaque White Tempered Laminate is made up of two pieces of clear tempered glass with an opaque white EVA laminate inner layer. The online quote / ordering system allows you to select from standard shapes or you can submit a drawing of your custom shape.
Clear Glass Dry Erase Board: Clear tempered glass or tempered laminate for thicker requirements make for a stylish clear marker board. The tempered glass gives a harder and more durable surface than ordinary glass.
Edge Finishes Available
Flat Grind: Has a matte, frosty or satin finish.
Flat Polish: Has a shiny or glossy finish.
Custom Holes and Cutouts
We can drill Holes, Clamp Notches, Hinge Cut-Outs, Plug Cut-outs, Finger Pulls and more in Tempered Glass. Perfect for mounting holes or for turning cabinet doors into a unique write on glass whiteboard.
Create visual display surfaces in most any setting. Ideal for use in offices, research and medical facilities, laboratories, hospitals, schools, colleges, universities and government offices.
Free & Guaranteed Safe Shipping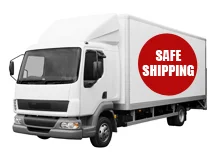 All packages are sent insured. Our standard shipping method is FedEx Ground which delivers most domestic shipments within 7 business days but in most cases we can ship as fast as FedEx Next Day Air.