| | | | | | | | | | | | | | | |
| --- | --- | --- | --- | --- | --- | --- | --- | --- | --- | --- | --- | --- | --- | --- |
| Type | Shape | Dimensions | Thickness | Tint | Edgework | Options | Summary | Checkout | Checkout | Address | Confirm Shipping | Payment | Review & Purchase | Finish |

Loading... Please wait.
Tempered Glass Prices
We know that when you are looking to start your project, whether it's replacing a broken shower door, or installing a new window, you want to know just how much it is going to cost you. This is why we provide instant online quotes.
Using our simple ordering wizard, you can give us all of the information we need to start your order. First you start with selecting the type of glass you are looking for (glass for your fireplace will need to withstand greater temperatures than your shelves). From tempered glass, to custom mirrors we can help.
After this we direct you to the different shapes of the glass. Most of the time, you can use our preselected shapes to help with your order.
Once the shape has been chosen you get to enter in the exact dimensions, as well as how thick you want your glass to be.
From here you are given the choice of tints on the glass. We provide pictures to display just how each tint looks on the glass in order to make the choice easier.
Also, you are given the option of the custom edgework choice. If your new piece of glass is going to be installed in a fixture of some kind, then the edges aren't going to be visible (use seamed edge), if they are going to show, we have you covered there too, with two options to choose from.
After picking the edgework, if you need holes drilled in the glass, we also give you the option to tell us where to drill.
These options help us give you an immediate estimate to take the guess work out of where to get your glass. Even with all these choices we have built in, sometimes a phone call helps in clearing up questions. If you have additional questions, please call and we would be happy to help you.
Free & Guaranteed Safe Shipping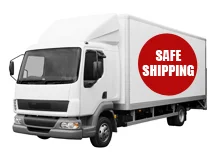 All packages are sent insured. Our standard shipping method is FedEx Ground which delivers most domestic shipments within 7 business days but in most cases we can ship as fast as FedEx Next Day Air.