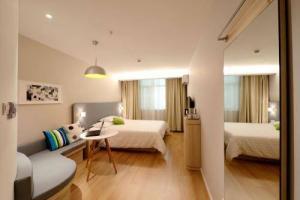 People always say that your home is the one place you can unwind after a long workday. And they're right! But there is one place in there where you can truly kick back: the bedroom. Every bedroom deserves to be cozy, comfortable, and serene. That said, here are six bedroom interior design ideas you can try to make your safe haven feel way better!
The bedroom is not only where you sleep. It's a place of refuge; a place of rest and relaxation. It's where you go to recharge your batteries and prepare for the next day. It's where you go to ease your mind when you feel stressed. The mere sight of a comfy bed, pillows, and sheets offer a sense of calm and tranquility that few can ever beat.
Install Wallpapers
If you have a smaller bedroom, wallpapers will do wonders! Installing wallpapers can help induce a relaxing effect. That is, it can make your small bedroom feel like a cozy cocoon! The wallpaper can also serve as a personal touch to your bedroom, making it feel more your own.
Remember, though, that you don't have to cover all the walls of the bedroom to achieve the desired effect. All you need is to pick one spot, like a nook at your headboard, to install wallpaper on. It will add a lot of character and make the bedroom feel even more comfortable.
Match Your Bedding And Lighting
There is a certain level of appropriateness and visual appeal with matching colors. In this bedroom interior design idea, you can try that with bedding and lighting. For instance, pick a mattress and pillow set in the same color as a table lamp. The matching hues will serve as a fun contrast to the wall and give the entire space a good amount of character. And if the color is your favorite one, all the better! It will make you feel that the bedroom is your own. Call it a personal touch, if you will.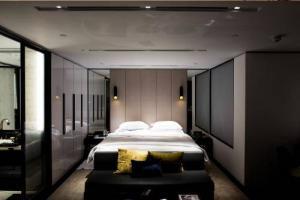 Use Architectural Quirks To Your Advantage
Not all bedrooms are created equal. Some are small, some are large. Some of them have high ceilings and small floor space, and vice versa. Instead of feeling bad that you have these quirks, use them to your advantage!
If you have a very high ceiling, use the vertical space above you. You can try installing a piece of art and letting it hang. If the ceiling is low, you can try painting it with designs that spark your interest. Say, a starry night sky? If there's not much floor space, maximize it by going for custom furniture with built-in storage. You have a lot of options to turn an otherwise iffy space into somewhere you can relax in.
Section Areas Off
Some people love their privacy above all, even in their own bedrooms. For this bedroom interior design idea, you can go old school. Like, medieval era old school. Use a sheer curtain around the bed to make better use of a small space. That way, you can make the bedroom feel more cozy and secure without breaking the bank. Or, you also have the option of changing the doors to your cabinets or closet with curtains or beads.
Be Smart With Storage Options
For those who have small bedrooms, don't go for a bed with a headboard. Go for something simpler to save space, then DIY some storage options. Case in point, you can build glass shelves that surround the area where a headboard should be! You can store books, mementos, and everything you like in these glass bookshelf. And the best thing is that you don't need to have advanced woodworking skills to build them. All you need are some measuring tools, planks, and some wood glue (yes, you don't even need nails).
Open It Up
By "open it up," we mean try having some glass installed! If you have a balcony, try going for a traditional sliding glass door, for instance. It will make the space feel a bit larger and roomier. Or go for a big window instead! Either choice is good for a bedroom, because it will let in a lot of natural light and open the space up.
Come Visit Us For Your Renovation Needs!
Neck-deep into a bedroom renovation project or looking for window repair? If you are thinking about opening up your bedroom with the windows or doors, then come see us for more or call us for more information about Bedroom Interior Design ideas! Come visit us at Peninsula Glass today and see what we have in store for you. Our friendly staff are ready to usher you in and answer your inquiries.