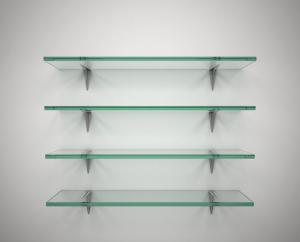 Glass shelves are easily the most convenient and essential storage unit in any home. Bookcases, for example, can be used to organize a variety of everyday items, from dishes to books or to display pictures and other home décor items. A glass bookshelf gives a welcoming touch to any room and helps maintain a neat and organized area in your home.
Types of Bookshelves
There are several types of bookshelves and they are freestanding or built-in wall units. Built-in wall shelving systems will provide more space than free standing units, but their installation can be more costly. You can also choose smaller, floating glass shelves if you do not want to add an entire unit.
Bookshelves can also vary in the type of materials used. They can be wooden, metal or even glass. Glass bookshelves are extremely trendy for many homeowners looking to find an elegant solution for their storage spaces. Glass bookshelves are extremely popular because they will fit with most room themes and existing décor, but are also very easy to clean.
If you are thinking about adding a glass bookshelf to your home, you should first consider what you plan on using it for. You should choose the thickness of the glass based on your intended use. For instance, you can choose thinner glass shelves if you plan on storing china or something more delicate and lightweight. If you want to store heavier home décor or books you may want to choose shelves made from thicker glass.
You should also choose what type of unit of glass bookshelf you wish to add to your home. If you have any questions, an expert glass professional can help you decide what is the best option for your home and can assist you with the proper installation.