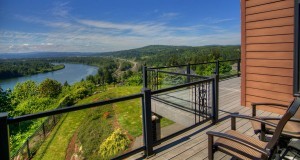 Do you have a gorgeous view of the beachfront, lake or mountains? Why would you want to hide that with wooden or steel railings? People take pride in their decks and their backyards, and glass deck panels are a great way to enhance the look of a backyard.
Instead preserve your view with glass deck panels made from heat tempered glass that is much stronger than standard glass. Enjoy the view from your deck and still provide the safety and protection that your family needs. Glass deck panels provide an unobstructed view of your backyard while allowing more exposure to the natural environment.
Tempered glass panels can be used for much more than preserving your view from your deck. They can be used to fence a pool or for glass room partitions. Learn more about the safety benefits of custom tempered glass.
Related articles:
Keep Your View With Glass Deck Panels Instead Of Railings
Considering Glass Decking Panels? Here's What You Should Know
Glass Deck Panel Thickness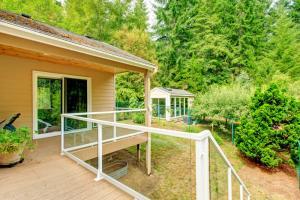 How thick of glass should be used? 3/8" clear panels are the most popular but some people use ½" for longer spans or ¼" for shorter spans. Check with your local building department for local requirements. You can also use our glass weight load calculator to see the relative strengths of glass panels for various spans and thicknesses of glass.
You can choose the size and dimensions of your glass deck panels to fit the look you're going for perfectly. There are a variety of tints, thicknesses and edgework that can be used for glass deck panels. Holes and slots can be added before the glass is tempered for connecting hardware.
Fast Shipment
We custom cut and temper to your job specifications faster than others can ship from stock and at a price that is much more affordable than our competition. You can get an instant online quote or place your order online.