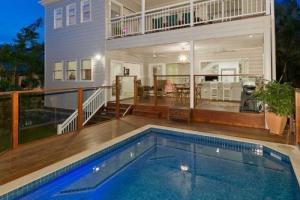 If you have a deck looking out to a great view, it's natural for you to want to enjoy what you see. You paid to have the deck constructed, so why not reap its benefits? Spending time outdoors in your own home is an excellent way of relaxation, especially during the summer and spring months. So it's also natural that you'd want to upgrade your view by installing glass decking panels, for instance.
But should you go for glass decking panels instead of other materials, however? That's the purpose of this article. By the end, we expect you to be at least a little bit more knowledgeable about using glass panels for your deck, so as to help save you a lot of money and time. So without further ado, read on.
Common Reasons To Go For Glass On Decks
Here are the most common reasons to go for glass panels on a deck.
Very high visual appeal: Glass panels offer a streamlined, contemporary look that looks so much better than almost any other deck railing system used today. Many people consider glass deck handrails and panels as the "gold standard" when it comes to overall visual appeal, and it's easy to see why. It gives off a clean look that is ultra-modern and minimalist, which is one of the most popular aesthetics these days.
Unobstructed views of the scenery: This is perhaps the most obvious reason of all. When you live in a beautiful place, it's natural to want to take full advantage of the view from every conceivable angle. Anything else such as wooden deck rails will always get in the way of a good view. But with glass deck railing, you can see everything while also remaining safe.
Versatile design options: There is an almost endless array of design options for glass, which you will never find anywhere. This is among the few glass deck railing systems that don't appear cluttered, despite incorporating several design elements at once. You have more room to personalize your deck, which is always a huge win and a massive bump to property value in the long run.
Additional privacy: Doesn't sound right, doesn't it? Glass is transparent, after all. But in truth, not everything is! For instance, you can go for frosted glass panels that will offer a good level of privacy, while maintaining a sleek, elegant look. Frosted glass comes in different levels of opacity. You can go from mildly cloudy to totally opaque if you want!
Durability: You'd be forgiven if you think that glass is rather fragile, but like with privacy, not all of them are. Remember, there is such a thing as safety glass! Otherwise known as tempered glass, this type of glass is durable enough to resist cracking from normal, day to day stressors such as bumps and inclement weather. A lot of glass railings and panels are made using one-quarter inch thick tempered glass, so you don't have to worry about safety too much.
Related articles: 
Deck Railing Ideas: Design And Maintenance
Keep Your View With Glass Deck Panels Instead Of Railings
Styles Of Glass Decking Panels
If you check with local glass makers, you have a lot of styles to choose from regarding glass panels for decks. But here are two of the most popular options for homeowners, so take note:
Frameless: this type offers a sleek and modern look, which is why you often see it used in and around public buildings. With it, you get treated to an almost completely unobscured view, which makes it a perfect choice to pair with decking. But they work extremely well for homes situated on locales like those close to the coast. Coupled with the amazing views, the glass itself is durable enough and can weather the increased salt and moisture in the air, without suffering from much wear and tear that can appear on metal frames. This also pairs well with tile or stone decking, which can make any space feel truly modern.
Post and clamp: Similar to frameless but relatively more traditional, post and clamp panels serve as a highly practical alternative for those who aren't privy with a lack of metal support frames. This is partly due to the fact that post and clamp can easily be upgraded and maintained. However, post and clamp is best in landlocked climates, because coastal conditions will risk tarnishing or rusting the metal. But with high grade stainless steel, it will be suitable for all types of weather.
We Can Help You Choose!
Glass decking panels and everything else that concerns them beyond these factors are always best left for professionals. Luckily, you have us! Our team at Peninsula Glass are more than willing to answer your every query, so you can give your home's look a massive upgrade. Come in and have a look today!