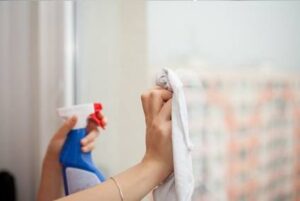 Mostly, the glass you use in your window, bathroom, and walls at your home or office is durable. It may last for years with proper care. However, there are times when they show some scratches that need glass scratch repair.
These scratches are not only annoying to see, but they can also create a deep scratch or, worst, crack the glass if not handled right away.
Related Post: Window Scratch Repair Tips
Reasons for Glass Scratches
Scratches happen because of various reasons. A few examples are:
sharp-edged objects
abrasive chemicals and cleaners
things dropped or rubbed onto the glass surface
To prevent these, you need to know how to properly repair the scratches by using different glass scratch repair methods.
Different Ways to do Glass Scratch Repair
1. Clear nail polish method
This solution is the least recommended way to do glass scratch repair. Applying nail polish can be time-consuming, but it can be very efficient and inexpensive. However, this method only works for minor scratches and not deep ones.
Before applying, you need to remove tiny debris or clean the scratch area. You can do this by gently rubbing the scratch with a cotton ball soaked in nail polish remover. After that, you can use clear polish to fill up the scratch. You can do a stroke or two for minor scratches.
2. Pumice stone method
Pumice stones are commonly used as an alternative to sandpaper. This method can be an excellent choice because it will not scratch the glass if you use fine grain.
First, wet the stone by rinsing it with water.
Rub the umice stone along the scratched area in a circular motion for around five minutes or until you see a thin coat of soapy film on the glass.
To achieve a shiny surface, wipe the area with clean water and dry it.
3. Glass scratch repair kit
This kit is probably the easiest and the quickest solution. You just need to buy the equipment and follow the instructions on the label or package. Glass scratch repair kit can also resolve deep scratches on the glass and restore its usual beauty and shine.
But there is one thing that you have to keep in mind before you purchase them: make sure that they are compatible with your glass type or brand so that they will not cause further damage later on.
4. Toothpaste-water Solution method
This method is the most common remedy for glass scratches. It is also considered the most effective. You can use this on your car or home windows.
You can do this by mixing two parts of water and one part of white toothpaste. Then, apply it to the area where there is a scratch using a soft cloth. Let it sit for 30 minutes, then rinse the area with warm water.
5. Buffing compound method
This method is an excellent choice because it will remove the scratches and give back the smoothness of your glass surface after application. In addition, you can choose a manual or machine polishing method.
To do it manually:
Attach a circular pad to the head of your drill.
Then, put buffing compound on top of the scratched area using terry cloth or felt disk.
Sand the area by rotating in a clockwise direction for no more than 30 seconds.
Make sure to keep your speed slow so that the head does not get too hot.
You can also do it machine polishing method. You have to attach a felt or terry cloth buffing pad to the drill and then put a small amount of compound on top of it. Then, switch your device on and spread the mixture along the scratched area. Be cautious not to exert too much pressure not to damage the glass.
Related Post: How to buff scratches out of glass
6. Diamond abrasive method
This method is also an excellent way to do glass scratch repair. This method needs diamond-impregnated abrasive paper or compound with a 3M adhesive strip roller.
Direction:
First, attach the adhesive strip on the dull side of the glass scratch.
Then use it to remove scratches.
You can cut the adhesive strip into smaller parts for thicker ones and attach them separately on your roller. You can also do this with a clean cloth and compound if abrasive paper and the adhesive strip are not available in your area.
7. Metal polish method
This is one of the best and most effective ways to repair glass scratches. However, this method applies to minimal scratches only. You should not use this on deep ones because it can cause further damage to your glass surface.
To do this, you need the following:
metal polish
a clean cloth or paper towel
any applicable protective coating.
Direction:
First, clean the scratched area with mild soap and water.
Then, apply metal polish on the affected area using a clean cloth or paper towel.
Rub it in a circular motion for around 30 seconds before you wipe it off using another piece of cloth or paper towel.
Allow your glass to dry for several minutes until you can see that it is free from moisture.
You can now apply any other protective coating to keep the surface protected.
When Glass Scratch Repair is not Applicable
There are different ways to keep the glass from scratches. However, some scratches worsen; thus, a glass scratch repair is no longer applicable. In this case, it may be ideal for replacing the glass.
Get the best people to do the job from One Day Glass. The company has glass experts that help you evaluate the scratches. Then, if the glass needs a replacement, they can provide you with it as they have different glass types that will fit your needs and requirements.
The company offers to customize and cut the glass based on your preference. For example, if you replace the glass on your window, they can cut it according to your window's measurement.
So, if you need high-quality glass? Contact One Day Glass today and get a quotation!