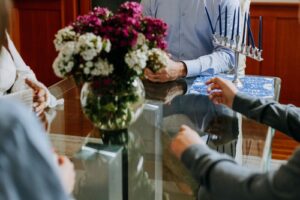 The dining table is one of the focal points in our house where we celebrate milestones, share stories, and form great memories with family and friends. Today, this symbolic furniture piece has become available in a variety of materials to maximize design and its overall feel.
If you're in the market searching for a new dining table, a glass dining table would be the perfect one for you. Glass dining tables can complement your interior design while providing a sort of impact to household members and guests.
Why choose a glass dining table?
Firstly, no, a glass dining table is not made entirely of glass. Instead, it's mostly wood or metal with a glass tabletop, and it can blend well with any kitchen space or style.
Wood dining tables may be a classic choice for your dining area, but they are prone to discoloration due to old age, water damage if made in low quality, and other problems.
Here are more reasons why a glass dining table is perfect for you:
Adaptability to your space
Compared to other tabletop materials, glass has a more comprehensive range of styles and designs. Much like wood, glass can be crafted in different shapes and sizes, like a rectangle glass dining room table with an option to have the top carved with fun designs.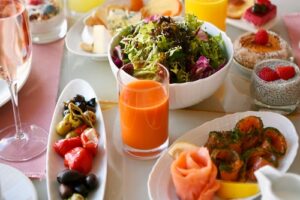 Seamless blending
A glass dining table may be a focal point in your kitchen, but they don't have to take away from the overall interior design of the area. Because of its transparency, guests will be able to appreciate your chairs, cabinetry, countertops, and other elements in your dining room. The base material of your dining table will only complement the aesthetic.
Optical illusion
The glass material instantly brightens your space by having the light of the room bounce off it. Plus, its reflective capability can create an illusion that your dining area is bigger. Your guests will also have an impression that you have a larger dining floor area because of the table's transparent nature. This kind of optical illusion is perfect for houses with small kitchens and dining areas.
But don't limit yourself to clear glass only. There are other options like rain, frosted, etched, tempered with color, and other different finishes.
Low maintenance
Glass dining tables, like tempered glass, are designed to be scratch and heat-resistant. Cleaning it won't also be an issue because you can just get rid of dirt, dust, and other spills by simply using a damp cloth, compared to low-quality woodwork where spills are harder to clean.
Glass also has a finish that doesn't fade, so maintaining its shine is easy.
Designed for durability
Glass manufacturers have designed modern glass types that are incredibly durable, safe, and long-lasting. The majority of tables on the market now use tempered safety glass. They're made at high temperatures and then cooled under specific technical conditions, resulting in a break-resistant glass table that is also child-safe.
Related Post: Round Glass Dining Tables
Timeless design
A glass dining table goes with any interior design setup. Wood tables age noticeably compared to glass. Over time, there's discoloration in wooden tables, where glass stays the same for a long time.
Tips for choosing your glass dining room table
Know the exact measurements of your kitchen first before deciding on the table's size and shape.
Consider the number of people in your home and the number of guests you frequently have. Most homeowners prefer the rectangle glass dining room table to accommodate more people.
The glass should have a stronger base. Materials that go well with a glass tabletop range from metal, oak, marble, rattan, wrought iron, cherry wood, and travertine. It's only a matter of preference.
Don't be intimidated by the idea of customization, there's a variety of glass dining room table base-top combinations in the market today.
Conclusion
A glass dining table is a perfect addition to your kitchen area. They add an illusion to make your space bigger, and livelier through reflections. There are considerable features that make glass dining tables better than wood, like timeless design and low maintenance.
Quality glass dining room tables in just one day
Glass tabletops are a one-of-a-kind way to add value and distinctive beauty not just to your kitchen area, but to your house as well.
Upgrade the look and feel of your place with glass furnishing from One Day Glass. One Day Glass is complete with in-house experts that can assist you in designing and building a custom glass tabletop tailored to your specific needs and preferences. Get quality glass furnishings in as little as one day, as our name suggests.
Contact One Day Glass today!
One Day Glass has been in business for more than 30 years as a division of The Peninsula Glass Company. Our skilled engineering team continuously delivers unique and cost-effective solutions to our customers' glass needs. We have been providing exceptional service throughout the United States and around the world.