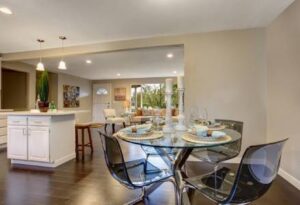 A tempered glass tabletop is perfect for dining rooms, making them feel more special and formal. If you're thinking about adding a tempered glass top to your dining table and wondering about what thickness is best, read on.
Tempered glass is perfect for dining tables because they are long-lasting, resistant to heat, and don't scratch easily. For the dining table, you can either have a table made from glass and place that over a table stand or you can have a glass top made for an existing table.
As for the thickness of your tempered glass table top, this depends largely on the size of your dining table. Thinner glass, such as 3/16 inch, is best if you're opting for a glass cover or protective cover to place on top of your current dining table. Thicker glass, such as 1/2 inch or 3/8 inch, is more appropriate for glass pieces that will be placed on top of a pedestal or stand and will be used as the actual dining table surface.
Thicker glass is also best for when your dining table is on the large side and/or will be used to support heavy loads, i.e. if you have a big family or frequently host parties. If your table is at least 24 inches in diameter, a glass thickness of at least 1/4 inch is best.
In general, 1/2 and 3/8 inch thickness are the most durable and most attractive. 1/4 inch thickness are best for smaller tables such as patio tables and coffee tables.<