Why Install Sliding Glass Patio Doors?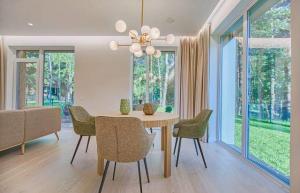 The patio is one of those areas in your home which is easy to forget to decorate and beautify, given normal circumstances. Sure, you'd likely never forget to spruce up your kitchen, bathroom, or bedroom. But the patio? Unless you're specifically targeting it, you'll likely leave it as it is. Things like sliding glass patio doors, no matter how great they are at making an area look amazing, are left out of the equation.
But with this article, it's a new day! We are going to start sprucing up your patio this time, and it will be glorious. Before you go splurge on landscaping and other things however, it starts with the simplest of all: the doors. And as the main topic of this article, we're going to focus on the basics of sliding glass patio doors, and why you should want them.
Sliding Glass Patio Doors: The Basics
A sliding glass patio door has half of it fixed in place, with the other half sliding over the fixed portion. Why install them? Simple: they let in a great amount of natural light into your house or room, while also providing easy access to the porch, deck, backyard, or even your pool.
Glass patio doors are a great thing to have because number one, they just look really good. Compare that to having a typical wooden door separating a room and your patio. It's not even a contest. Compared to the glass door, a wooden one (or god forbid a plastic one) looks so drab and lifeless. There's just really something beautiful about glass that's hard to top.
Now, let's go over the most important thing: money matters. How much does it cost to install one? On average, you can expect to pay between $2,000 to as much as $4,000 for installing such a door. And that's only the installation fee. There's also a separate fee for fitting. For instance, fitting a 72″x80″ aluminum sliding door will cost you around $2,756.
If you think that that's quite steep, don't worry! That's how much it can cost you if you buy something top of the line, from a very reputable manufacturer and installer. If you look hard enough for great deals, you can lower costs to as little as an average of $1,626 when installing something like, say, a 72" x 80" single-glazed vinyl door.
The absolute max price on average that people pay can be as high as $4,804​ if they opt for a 72" x 80" dual-pane wood sliding patio door. Extra features like a dog door, vertical blinds, and even an automated closing and opening system can increase the price even higher.
Patio Doors By Panes
Another thing that can increase the overall price of sliding glass patio doors is how many panes they have. Here's a quick rundown of the numbers. A single pane can cost around $350-$1500; double panes at around $450-$2100, and triple panes can cost as much as $2000-$3000 on average. Take note of the word "on average." There's a high likelihood that you can find cheaper rates than this, and the best thing is that the quality isn't compromised at all for the price.
But why would you want multiple panes of glass for your patio door? Two words: energy-efficiency. The more panes there are, the less chance that heat or cold leaks out. And if your home doesn't leak out, your HVAC system doesn't work too hard, which in turn will reduce power costs. It actually makes a lot of sense to go at least double-pane on glass patio doors because they look outward into the open air. If you seal the outside off good enough when you close the door, you don't have to worry about sky-high electricity bills.
Related article: Folding Patio Doors: The Things You Need To Know Before Having One In Your Home
Designs, Designs, Designs
Glass patio doors come in so many different designs. There's literally something for almost every type of design motif. Do you want something that looks very contemporary? You can go for patio doors featuring sharp, crisp lines and metal builds. Or would you like something a lot more classic-looking? Then go for a glass patio door that features real wood framing; sometimes the wood is even stained!
Designs, however, aren't all about aesthetics. You see, higher-end doors that feature real stained wood and such can be pretty expensive. But it doesn't have to be. Metal frame doors tend to be cheaper, but their price tags fail in comparison to vinyl doors. The frames of these doors are as basic as they can get, but they still get the job done without looking too cheap. This makes them the perfect choice for money-savvy homeowners who might want something that "just works."
Final Thoughts
Sliding glass patio doors are amazing additions to your home. Even if you technically don't have a spruced up patio or backyard yet, they still make sense because it allows you to see outside and take in the sun whenever you want. It's no fun being locked up in a room without natural light, more so for extended amounts of time. So, let us help you out with this one! Here at Peninsula Glass, we know what you want and need, and we can help you get it. Visit us today!