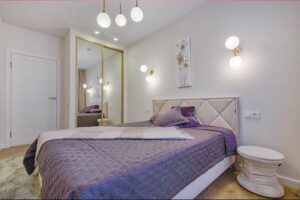 When making some home improvements at home, it is essential to consider all aspects. Aside from the interiors, you may also need to check your closet doors. Installing sliding mirror closet doors can improve the overall aesthetics of your room. You can customize it to achieve your desired bedroom look and maximize its space. Hear out why Peninsula Glass experts recommend customizing sliding mirror closet doors for bedrooms.
Why Consider Custom Sliding Mirror Closet Doors?
Some homeowners overlook closet doors. They can be satisfied with the typical hinged swinging doors. But if you want to take your bedroom to the next level, you need to check other options like sliding mirror closet doors for bedrooms. Here's why:
Add appeal to the traditional closet.

Upgrade your closet with custom sliding closet doors. This option is best when adding style to your traditional closet. With the right color and finish, the sliding mirror closet doors can create a unique and beautiful closet space. You may buy ready-made closet doors, but if you want to guarantee high-quality sliding mirror doors, it is highly recommended to ask for experts' help.

Maximize your bedroom space.

If you have a small bedroom space, you can maximize it by installing custom sliding mirror closet doors. Not only are they stylish, but they also consume a little space in your closet, giving you more areas for your clothes. The best part is you can use them as room dividers to achieve more privacy. Besides, sliding mirror doors can also be used for the dining area, guest room, and even in your workspace.

Modernize your room.

There's nothing wrong with using vintage closets, but installing sliding mirror closet doors can modernize it if you want to change your bedroom look. With the said door style, you can achieve a refreshing look for your closet since the combination of the sliding door's aluminum creates a more appealing visual.

Enjoy a durable and functional closet.Sliding mirror closet doors for bedrooms are also praised for their durability and functionality. Unlike traditional closet doors, sliding mirror doors can open smoothly since they are more lightweight. When built with high-quality aluminum frame systems, the sliding mirror closet doors become more long-lasting and guarantee excellent performance.
Have fun taking mirror selfies. People who are fond of taking selfies will surely fall in love with sliding mirror doors. Not only do they upgrade the bedroom's look, but they also add mirror space. Since mirrored doors reflect the light effectively, they can make your room feel brighter. You can quickly check your day-to-day outfits and take mirror selfies whenever you want.
Closets are not only storage for your clothes and personal belongings, but they can also be decors in your bedroom. Therefore, you need to consider high-quality and functional closets that can give you enough space. Using sliding mirror closet doors can add to the overall visuals of your bedroom. It is highly recommended, especially if you are opting for a modern look.
Are you eyeing sliding mirror closet doors for bedrooms? Check out our products or order custom glass online. Peninsula Glass experts can help you in selecting the best material for sliding mirror closet doors. Contact us today for custom mirrors online!