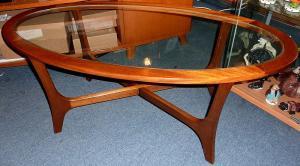 All You Need To Know About Table Top Glass
Different types of glass were made for different types of purposes. They may look the same to the naked eye, but there's more about glass functions that you should know.
One important function of glass is protection. This is because it's a material that can withstand the test of time and still look the same as it was years after. Glass that is used for protection is often found in furniture, and especially common in table tops.
Protecting Your Furniture
Furniture may be made durable, but its surface can gain marks, scratches, water rings and even sun damage as time passes. Keep in mind that each valuable piece of furniture you purchase is an investment. The last thing you want to see are damaged pieces of these investments because of one careless mistake.
It's also true that you want to show these pieces off. Prized furniture is worthy of all the praises from your guests. Glass used as an additional protection for your furniture is one of the best things you can do if you want to go both ways. 
This practice is most common among wooden table furniture. This is because wood is vulnerable to moisture, scratches, scrapes and even sunlight. Glass effectively protects your wooden table from any of these possible damages.
The Best Glass for Table Tops
Table tops are susceptible to damages because of continued use. This is why it needs a certain kind of glass that is stronger to stand the test of time.
If you ask the experts, you'll find that tempered glass is the ideal type of glass for table tops. It offers longevity of protection and is well-known as a much safer option.
Tempered glass is a kind of glass that went through the process of strengthening called 'tempering,' to make it four times stronger than ordinary or annealed glass. It's a process of controlled heating and cooling, making the glass tougher to use.
However, some can find annealed glass a better option for their table top furniture if it will be used as a table top cover. It's a practical option, as glass is less likely to break if placed side-by-side on a solid surface. Also, it's cheaper than any other glass type.
Tips for Installing Glass Table Tops
The thing is, table tops, especially the ones with very intricate designs, are not always the same when it comes to measurements. Looking for the perfect tempered glass may not be as easy as it seems. You have to find an expert to customize it for you.
Luckily, that won't be a big problem. In fact, we've got some expert tips for you.
Measure Your Table Top
For table tops that have common shapes, you don't need to worry much about it. You just need to measure the width, length and the area you prefer that glass should cover. 
However, for table tops that have uncommon shapes, you can trace it on a paper. Using an industrial or craft paper, trace the edges of your tabletop with a marker. Make sure to modify the edges and verify if you have the shape and size correct.
Identify Glass Thickness
For tempered glass on table tops, you can go for ¼ inches thick. It's the recommended thickness for tempered glass to work on furniture like table tops. If you're opting for a thicker glass like ⅜ or ½ inches, it can be possible if your furniture can handle it.
Choose The Glass Strength
Tempered glass tops the list of glass table top options. It's the perfect type of glass that's made strong and durable to protect, and safe for possible accidents. 
Though some can find annealed glass not so bad, it may lack the safety features that tempered glass has. If you're using it for home furniture that's designed for everyday use like a dining table, opt for the tempered glass type. 
Customize The Edge Type
The most common type of edge for table top glass is flat polish. It's cutting the edges of the glass and polishing it flatly. 
For aesthetics-focused applications, you may find pencil polish a better option. It's a type of edge with a shiny or glossy polish that features a slight curve. 
Table Top Glass Costs
The fact that tempered glass has gone through stages of strengthening to make it ideal for use, it comes, expectedly, with a higher price. 
The price of an annealed float glass with polished edges at about 6-millimeter thick runs at $330, with delivery costs. In comparison, tempered glass is more likely to cost more, at about $490. 
Price heavily depends on the type of glass you'll be getting. Remember to choose the best type of glass you will need.
Going for the best type of glass must also mean making sure it's expertly made. The type of glass to use is just as important as its quality.
Us at One Day Glass offer the best glass made from quality-grade materials and expert craftsmanship. If you're looking for the right type of glass for your table top or any furniture, you can count on us. Send us a message today.