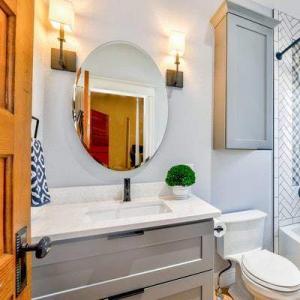 Do you want to convert your tub to a shower? Do you have space issues, or are you simply looking for new tub to shower conversion ideas?
The process of turning a tub into a shower can be daunting. It's not as simple as tearing out the existing tub and installing a new shower. In addition, there are things to consider like: how much tile work is needed, what kind of flooring will need to be replaced, and if there is enough room for all the plumbing fixtures. These issues can make planning this project seem overwhelming at first; however, we have come up with some helpful tips that may aid you in deciding whether or not it's something you want to do in your home.
What are the tub-to-shower conversion systems?
There are two tub and shower conversion systems that you can look at.
Direct replacement tub to shower conversion
This is when the tub will be removed with nothing else being done to your bathroom layout. This tub-to-shower transformation usually results in very little water damage because there was no need to demote or remove any tub or wall. The tub to shower conversion kit can be an excellent option for a bathroom in good condition and only needs the tub replaced with a shower unit.
Total removal and replacement
The second type of tub to shower conversion system will require some demolition, but it also provides you with more design choices because there are so many different types of bathtubs to choose from. This tub to shower conversion system is really great for bathroom renovations because it provides you with flexibility when designing the layout after the tubs are removed.
How to convert a tub into a shower?
Make a Shower without Removing the Tub
For most people, it's easiest to remove the old tub and start with a new one. However, if you're on a budget, think about just replacing your curtain with a glass panel and installing a showerhead. That way, you can keep your existing tub — at least for now.
It is usually easy to slide a new shower arm through an old tub faucet hole. However, if you cannot do that, you would have to remove some plumbing components before installation.
Here are some of the tips that you may consider:
If you have a faucet with a spout perpendicular to the wall, then pull out the old tub spout and remove the sprayer.
You will need to get access inside the wall by removing the lower panel of drywall if necessary.
If your faucet is more than 1″ away from the wall, you could slide the new shower arm through the spout hole. However, if it is very close to the wall (less than 1″), you would need to remove the tub faucet assembly and replace the spout before rebuilding the showerhead.
If your old tub spout has a screw or vise grips type of connection, you could pull it out with minimum effort. If it is held in place by set-screws in the back, then you may need to loosen nuts with an adjustable wrench or hacksaw blade before pulling out. If it is threaded into the wall, just cut the spout using a hacksaw and pull it out.
Related Article: Frameless Bathtub Doors Quick Buying Guide
A shower door sweep is a small, flexible strip of material that is attached to the bottom of a shower door to prevent water from leaking out onto the bathroom floor. It is typically made of rubber or silicone and is designed to create a watertight seal between the shower door and the shower pan or bathtub. The sweep is usually attached to the bottom of the door using adhesive or screws and can be easily trimmed to fit the specific size of the door. Over time, shower door sweeps can become worn or damaged and may need to be replaced to ensure the shower remains watertight. Replacement sweeps can be found at most home improvement stores and are relatively easy to install.
Removing the tub and building a new shower
If you are thinking about remodeling your bathroom, you are probably considering removing the old bathtub and building a new shower. Although this might seem like an overwhelming task to complete, it can be done by most homeowners with moderate DIY skills.
If you suspect that you might need professional help, here are three things to consider before dialing and calling someone:
Consider the Safety:
This should be your number one priority when removing a bathtub and building a shower. If you don't feel comfortable with how your bathroom is hooked up, hire someone to help you. When removing debris, take extreme caution that no one will trip over wires or pipes and fall. Keep children and pets away from the work area. Additionally, the old tub should not be filled with water to avoid potential slips and falls when it is removed.
When Breaking and removing
When removing a bathtub, you should expect some breakage to occur, so prepare for it by covering the floor beneath where the tub will fall. An easy way to clean up this mess would be to lay a drop cloth over the floor and attach it with duct tape. Afterward, sweep up any broken tiles or other debris that falls to the floor.Removing the tub can be an overwhelming task, but if you can do it with the help of a family member, then you are good.W
Turning off Water Supply
Make sure to turn off the water supply that feeds into your tub before you get started. This will ensure safety from electric shock and damage to your property. If you can't find the shut-off valves, you can use the main switch for your home to make sure that no water enters the system. If you feel like this is something you can't figure out, call someone to help.
Related Article: Converting Your Tub To A Luxury Shower With Frameless Glass Shower Doors
Conclusion
There is a lot of tub to shower conversion ideas that you can apply. The best way to get the most out of your shower is by creating a bathroom that feels like an oasis. You'll want to think about how much room you have, what kind of design style you're going for, and what type of materials will be durable enough for everyday use.
One Day Glass acknowledged this need; that's why we offer a variety of glasses for you to use as an enclosure for your new shower. We offer the best custom cut and fabricated safety panels to fit your needs precisely with our state-of-the-art machinery. Of course, we provide steel fabrication services too.
Call us for a free quotation at (800) 452-6117.