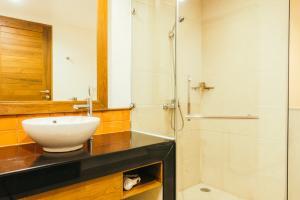 If you are planning to renovate your bathroom, converting your tub into a luxury shower is a great idea especially if you seldom use the tub and if you want to give your bathroom an elegant upgrade.
Having a spacious bathroom is considered a luxury. If your bathroom space is on the smaller side, it is time to replace your tub or remodel your bathroom into a shower. Here are some remodeling tips and ideas you can use to revamp your bathroom.
Placing a Frameless Glass Shower Door
Frameless glass shower doors are not only modern, sleek, and elegant, they also add an illusion of a spacious bathroom. The frameless and glass style creates a clear view, add more space, and unlike the old-school framed shower doors, they do not need all the unnecessary hardware.
You can also opt for a steam shower by fully enclosing your glass shower doors. It is becoming a popular trend that most homeowners choose to do for the master bathroom.
Install modern bathroom fixtures
If you are aiming for an elegant and modern bathroom, installing a modern bathroom fixture such as a high-tech shower head helps. Replace your old and boring showerhead with one that has multiple functionalities. There is a wide array of shower heads with different functionalities that suit your needs.
There are shower heads that have multiple shower flow options, those that can filter the chlorine out of the water, some have LED lights and even shower heads with speakers that can play your shower playlist.
Change your tiles
Changing your bathroom tiles can instantly lighten and upgrade your bathroom. Depending on your preference, changing the tiles of the wall and your bathroom floor says a lot about your style and how your bathroom will look like afterward.
If you want your bathroom to look immaculately clean and spacious, opt for tiles that are plain in color for the walls and floor tiles that are also plain and have no patterns.
Minimalism in the bathroom
Minimalistic design and styles are very modern and popular because they always look and clean. Declutter your bathroom and get rid of things you do not really need. Opt for built-in cabinets and shelves that are tucked away or hidden with clear lines. Lighting and mirrors also play a great role in adding brightness, freshness, and cleanliness in your bathroom. The light also enhances the look of your frameless glass shower door.
Upgrading your bathroom is not as complicated as you think. All you need to do is choose the right fixtures, tiles, and bathroom accessories.