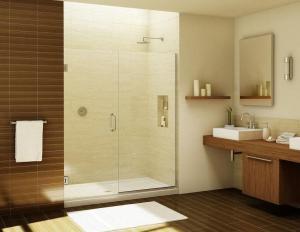 What To Expect When Customizing Shower Doors
For residential glass installations, bathrooms typically need the most attention. Glass for shower panels and doors have been the best option for any type of home.
Now after you've done your designs, the next thing to do is to look for a glass manufacturer that will fabricate the glass for you. The thing is, they would also need specifications regarding the work they should do for your custom shower doors.
Here's a checklist of what to consider when looking to customize your shower doors.
Determine your Shower Configuration
Every bathroom has a different size and it's entirely up to you on how you'll design each space. This also means that your shower area will have different configurations.
Where do you intend to place your shower area? Will it be right in the corner of the room, at the center, or will it be in a separate enclosed area? This will help determine the glass needs of your shower area. 
Another thing to consider are the panels. How many panels will there be, and how do you want your door to be attached to it? Are you looking for a custom framed shower door, or is thinking that a frameless glass shower door design is better? Remember that glass manufacturers will need all these info to customize your glass needs that best fits your design.
Measure Up the Dimensions
Now this is the most tricky part that you need to provide your glass manufacturer. Dimensions and measurements should be accurate enough for your manufacturer to work on. 
To determine the best shower dimensions that you'll feel comfortable with, try measuring the shower area with arms outstretched as you turn around. This way, you'll be able to know how much shower space will you feel comfortable.
Standard shower dimensions are typically 32"x32" and 48"x 36". For bigger bathroom spaces, you can consider a 60"x36" size. If you want to add more fixtures inside like a bench, opt for a larger size. For showers with steam, the recommended height must be at least 8 feet.
Identify Glass Type and Thickness
Shower glass doors typically make use of tempered glass. It's strong and sturdy, and at the same time safer when it breaks. Tempered glass has gone through heating and cooling processes to make it safer to use and comparatively stronger than annealed or standard glass. 
However, modern shower doors make use of laminated tempered glass which is made to be the most durable of all. Laminated glass is a safety glass that doesn't shatter when broken. This is because it's made of two glass panels that are held together by an interlayer. With the combined strength of both glass types, a laminated tempered glass type for your custom shower doors is the best option of all.
Do You Need to Tint Them?
Tints can come in handy especially for bathrooms with multiple users. With tinted shower doors and panels, you can customize the level of privacy you need for your showers.
Some also opt for frosted glass than tints, which is also a good option for design and functionality. Make sure to pass this info to your manufacturer so they'd know how to work on your glass design.
Define What Edgework You Want
Glass edgework in your shower door not only amplifies a clean look, but also secures your safety. Remember that bathrooms are the wet areas of the house where accidents can happen. The glass edgework should be friendly with both design, functionality and most importantly, safety.
Some of the standard edgeworks include:
Cut and Swipe (Seamed)
It's when the edges are sanded to make sure that glass is safe for handling. It doesn't do much on the design part, that's why it's mostly used on glass that is hidden.
Beveled
This type is like a cut and swipe edgework, but with clean bevels and are chamfered to provide a nice look to frameless installations.
Pencil (Grind and Polish)
Pencil is an edgework that showcases a smoothened and curved edge. Pencil grind type is covered with matte finish while the polish one uses glossy and smooth polish.
Flat Polish
Sleek and glossy lines that are best for glass displays. 
Do You Prefer Framed or Frameless?
Framed is considered more secure and safe but frameless shower glass doors tops the principles of design and usability. With framed shower glass doors, glass is held up by frames that makes it less vulnerable to breakage when bumps happen.
Frameless, on the other hand, features a sleek and clean design. It's best to use if you want to show off your tile work and other bathroom fixtures. It's also easier to clean as molds will have no place to settle in.
There's a lot to consider for custom glass shower doors but make sure that you'll be installing the best glass available. 
One Day Glass fabricates premium-grade glass fit for residential and commercial use. To make things easier for your custom glass doors, we've come up with detailed questions you can answer regarding specs, sizes and everything we need to know on our website. Talk to us today so we can assist you better.