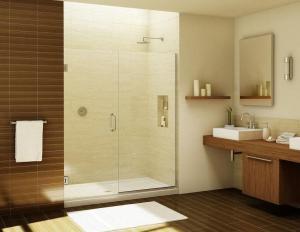 Why You Should Switch To Frameless Shower Doors
A nice bathroom is something worth splurging for. It's a special part of the house that definitely needs the extra attention. Another thing is the shower area where you spend most of your private time. But when talking about shower doors, is choosing frameless the best way to go?
Sophisticated, elegant and easy-to-clean, they say you'll never go wrong with frameless shower doors. However, if you're still undecided whether or not to get it, here's an honest guide.
They're Aesthetically Pleasing
There's no doubt that frameless shower doors look better than framed ones. This is exactly why they are preferred by five-star hotels and resorts all over the world, and considered a dream by many. Their edges aren't covered with any seal, rubber or metal. They're simply divine to look at. 
A frameless shower door design usually consists of a tempered glass, about ⅜ to ½ inches thick, that is clearly unsupported and free from metal, except from the hinges and handles. If your shower tiles has intricate stone work, you definitely have to show it off and go frameless
They Cost More
A thicker glass is one of the reasons why frameless shower doors cost more than framed ones. They usually weigh 80 to 100 pounds pure glass. This also means that installing them into your shower panel won't be that easy. You'll need to use more expensive hardware such as solid brass to make sure they're safe.
Expect to shell out hundreds of dollars for these good-looking glass parts. Frameless shower doors cost $700 to $1200, materials and installation included. This also depends on the glass' thickness, shape, size, and what type of hardwares used. Framed glass costs significantly lower, about $80 to $300 only.
Molds are Not an Issue
Now here's the real deal. Because frameless shower doors don't involve any rubber or seal, they are definitely easier to clean. Molds won't be clinging into them simply because they won't have spaces to cling to.
When cleaning, you only need soap and squeegee or just plain cloth. No need to scrub or brush off any undesirable particles that build up in the cavities. If you're too lazy or annoyed to clean those up, it's time to switch completely to frameless.
They're Not Perfect
They may be beautiful, but they're never perfect. Because of the lack of frames and seals on them, some functions that framed shower doors have, may not be present in them. '
Frames are double-purposed. For one, they protect the glass from shattering to pieces, and two, they provide a seal that holds up water inside. Water splashes can be easily eliminated because they are contained well inside. 
Frameless shower doors have gaps where leaks and water splashes can easily pass through. If you have toddlers who love to play with water while showering, expect you'll have to clean a lot after.
They're Highly Customizable
With frameless shower doors, you are not limited to a certain style or shape, because they can be customized any way you want. 
This is great because no bathroom design and measurement is the same in every house. Unlike framed shower doors, you don't have to redesign it to fit your shower.
They're More Fragile
Maybe it's not the best option for your kids' bathroom. Because nothing holds them together, they should be handled with more care, as they have the tendency to shatter.
The good thing though, frameless shower doors were reported to only break for mostly two reasons: they are improperly installed, or the glass inclusions occurred during the fabrication process. This is why when going frameless, choosing the best glass manufacturer is also important.
You shouldn't fret if your chosen frameless shower door manufacturer is one that's committed to quality work. They'd know what type of frameless glass should go where, and can customize it based on a customer's changing needs. 
One Day Glass is renowned for its commitment in making quality glass for residential, business and industrial use. Frameless shower doors, and other customized glass are some of the best products we take pride in. Experience the ODG advantage when you talk to us today.