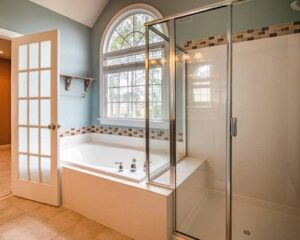 If you're in the market for a new shower door, finding the right installer to help you choose and install it is essential. Not all installers are created equal, so it's important to do your research before choosing one.
Here are some tips on how to find the best shower door installer for your needs.
Factors to Consider when choosing the best shower doors Installer
License
If you are looking for a shower installer, it is vital to consider the company's license. Many companies claim to be experts in shower installation, but not all are licensed.
A company that is licensed to install shower doors is typically more qualified than one that is not. The licensing process requires the company to have insurance and a background check. This ensures that the company can cover any damage with its insurance.
When you are considering which shower installer to hire, be sure to ask about their license. A licensed company will usually be happy to provide you with this information. However, if the company is not licensed, it is best to find another installer.
A licensed shower installer will give you peace of mind and ensure that your shower is installed correctly. Ask about a company's license before hiring them for the job. It could make all the difference in the quality of your shower installation.
Reputation
Reputation is vital when choosing the right shower door installer. A good reputation means the company is reliable, does quality work, and stands behind its products.
One of the best ways to find a reputable installer is to ask for referrals from friends or family members who have had shower doors installed in their homes. They can give you first-hand information about the quality of workmanship and customer service they received from the installer.
Once you have a few referrals, take the time to call each one and ask questions about their experience. This will help you narrow your choices and find the right installer for your home.
If the installer has a bad reputation, it might indicate that the company does not stand behind its work. You don't want to end up with a shower door that leaks or does not fit properly.
Experience
The installer's experience matters. Here are three reasons why:
Experience Means Quality Workmanship An experienced shower door installer will have the skills and knowledge necessary to get the job done right the first time. You won't have to worry about poor workmanship or defective materials.
Experience Means a Lower Risk of Accidents

An experienced shower doors installer will know how to properly handle and install glass shower doors, which means a lower risk of accidents. This is especially important if you have young children or pets.

Experience Means Peace of Mind

When you choose an experienced shower doors installer, you can have peace of mind knowing that your project is in good hands. This means you can relax and enjoy your new shower doors without worry.
So, when choosing a shower door installer, consider your years of experience. It could make all the difference in the quality of workmanship, the safety of your home, and your overall peace of mind.
Price Range
When looking for a new shower door, the first thing you probably think about is style. But other factors are important – like price. Here's why you should consider the cost of your shower door installation before making a final decision.
The most obvious reason is that you want to ensure you can afford the door. The cost is more than just the upfront price of the door itself. You also need to factor in the cost of installation. Some shower doors are straightforward, but others require the expertise of a professional.
If you're unsure how much your installation will cost, ask for estimates from a few companies. This will give you a good idea of what to expect and help you budget for the final cost of your new shower door.
Warranty
When it comes to choosing a shower door installer, there are many factors you should consider. One of these is the warranty that the company offers. Here are three reasons why the warranty is so important:
The warranty shows that the company stands behind its work. If there are any problems with the installation, you know that the company will fix them.
The warranty gives you peace of mind. You don't have to worry about paying for repairs if something goes wrong.
The warranty can save you money in the long run. For example, you won't have to pay for a new door or other repairs if something goes wrong.
So when you're looking for a shower doors installer, ask about the warranty. It's an integral part of choosing a quality company or supplier with high-quality materials.
Related Post: Framed Vs. Frameless Glass Shower Doors
As a homeowner, it is essential that you have to think about it before hiring a shower door installer. This ensures you have the right one and get the desired output.
So, if you're in the market for a new shower door installation and don't want to take any chances with an inexperienced or unprofessional installer, be sure to call One Day Glass today. We have a wide selection of beautiful shower doors that will fit your needs, and our team of experts is here to help you choose the right one and get it installed quickly and correctly so you can start enjoying it ASAP.
Don't wait – call us today!