Rejuvenate that Old Table With a New Glass Table Top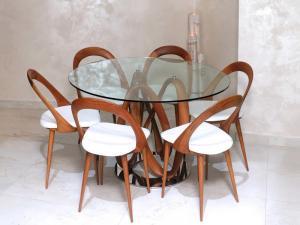 Some of our homes' most important furniture pieces are tables. If you are looking to upgrade your furniture or replace your dining room or living room table, adding a glass table top to your home is one of the simplest ways to improve the look of your old furniture
Glass tabletop is also a hassle-free way to give furniture a new look. It would look great on a dresser, desk, or coffee table while also making it easy to clean them.
Benefits of Glass Table Tops
There are many benefits to using a glass table top compared to those made from wood or metal:
Since glass table tops are transparent, a glass table can make a room feel larger and more open. The transparency of the glass allows light to pass through. This provides a clear view of the rest of the room. This makes glass table tops great options for an apartment or smaller spaces, too.

Glass tables also fit well with any other furniture or décor so, you do not need to replace all of your existing furniture which can be very expensive.

Glass table tops

are also easy to clean. They can be wiped easily with almost any cloth and glass cleaner.

They also come in most shapes and sizes or can be customized to fit your room and home.
You can incorporate a glass table top to fit with your existing tables if a glass table isn't for you. Many people add a glass tabletop to their existing table as a way to improve their table's appearance as well as preserve the wood or other material underneath the glass.
Furniture can be expensive and it is what makes our house a home. However, investing in glass table tops that are both beautiful and protective is a worthy investment all the way.
One Day Glass has the ability to create a beautiful replacement glass table top, built to your specifications.  We can also cut holes in the glass to ensure a proper fit on the existing frame.