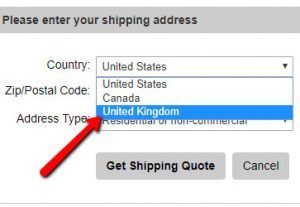 The wait is over and customers all over the UK can now buy our full line of custom cut glass products and have them shipped to their home or business. We now provide quick, reliable shipping to our customers on the UK in addition to Canada and the United States. All our products can be ordered online on our eCommerce website.
You can use our order wizard to enter in the shape and dimensions of the glass. We are even equipped to handle unique shapes, should your project require it. While we recommend having a digital file to use to cut your custom shape, we have used all sorts of templates in past, like paper cutouts to get the correct size and shape you need.
As a division of The Peninsula Glass Company, One Day Glass has been in business for more than 30 years. Although our headquarters are in Vancouver, Washington, USA, we have been providing excellent service all over the United States and Canada. We now ship to our customers in the UK with orders taken directly on our ecommerce website.
Not only can we ship your order in a day, often it is cheaper for us to ship it to your door than for you to have the work done at your local glass shop.
This includes all our products on our website including custom cut tempered or annealed glass, glass table tops, glass shelves, frameless mirrors, frameless shower doors, fireplace glass, woodstove glass, replacement double pane sealed window units, glass white boards, glass deck panels.
We take pride in cutting glass to a tolerance of +/- 1/16th of an inch – which is a level of precision that many other glass shops can't match. OneDayGlass is your all-purpose glass shop, where no order is too large or too small; which means we have many kinds of glass! Ceramic, Annealed, Tempered, laminated… those are just a few of many, many different options. We have various shapes and shades of tints.
Replacement mirror glass refers to a replacement piece of glass designed to fit into the housing of a vehicle's side mirror or rearview mirror. This type of replacement is typically necessary when the original mirror glass is cracked, chipped, or otherwise damaged, but the housing and other components of the mirror are still intact. Replacement mirror glass can be purchased separately from the mirror housing and installed by a professional or by the vehicle owner themselves, depending on the complexity of the installation. It is important to select the correct replacement mirror glass that is specifically designed to fit the make and model of the vehicle.