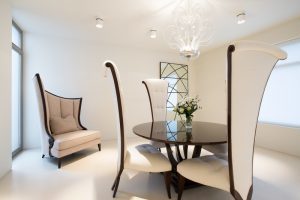 A coffee table is not only a useful furniture especially in the living room, it can also a statement piece. Choosing a coffee table usually depends on how you decorated the room and how often you and your family will use it.
Keep in mind that you may need a sturdier coffee table if you are planning to put one in your family room. If you want one that you can use as a coffee table and a statement centerpiece in the living room where you usually entertain guests, a coffee table with glass top is a great choice.
What material best fit my space and my style?
The first thing that you should consider when shopping for a coffee table is the material. The interior design of the room and the amount of space you have usually determined the kind of coffee table that you should buy. So take a good look around your room before you run to the store and get a new coffee table.
A glass coffee table top can make the room appear bigger, modern, and more open. A coffee table made from dark wood materials such as mahogany would look good in a more traditional room. A leather or faux leather coffee tables are easy to maintain and can work well in different settings.
Of course, you also have to take into consideration the combination of materials. Glass top coffee tables can be placed on almost any kind of foundation. You can opt for a glass and metal combination, a glass and wood combination, or a glass and leather combination. The choice is ultimately up to you.
What shape or size will best suit my space?
Coffee tables vary in shapes and sizes. If you have already decided on the material, you must decide on the shape and size. If you are planning to put it in the living room, pay attention to the sitting configuration. Size-wise, your coffee table should not be more than two-thirds of the length of your sofa. You should leave enough leg space between the sofa and the table.
For the shape of your table, an oval or rectangular table can work well in small rooms. A round or square table can be a great choice for larger rooms and seating configurations such as a huge sofa and love seat. If you have kids, the absence of sharp corners in round tables is recommended.
Do I need added functionality?
If you want more functionality for your coffee table, look for tables that have additional shelves that can double up as a storage. Some examples of coffee tables that have enough storages are ottomans and trunks. Some coffee tables can also be adjusted if you need one that can be raised for working or eating. If you need one that has wheels so you can move it around, there are also plenty of options available.
When shopping for a coffee table, you should be aware of the materials, the shapes, sizes, functionality, and how you are going to use the coffee table. The last thing you need is to get stressed out over a coffee table that does not fit the interior design of your room, the space, and most of all, the usage.
Related Post: Glass Square Coffee Table: A Sleek And Stylish Addition To Your Living Room