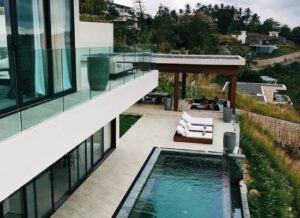 There are many reasons why you want to cover glass doors for privacy. Maybe you live in a high-traffic area and want to cut down noise. Or you have nosy neighbors and discourage them from peeking in. Whatever reason, you can cover glass doors to achieve privacy.
Use Blinds or Curtains
One of the simplest ways to cover glass doors for privacy is to hang blinds. Unfortunately, this will block out most of the light and make it difficult for people to see inside. If you want maximum privacy, opt for blackout curtains or blinds. Otherwise, any curtain or blind will do the trick.
Curtains can also be a more aesthetically pleasing option than window film, as they come in a wide variety of colors and fabrics. However, they can be more challenging to install than window film and may need to be professionally installed in some cases.
When it comes to choosing the right blinds for your door, there are a few things you need to take into account. The type of door you have, the climate you live in, and the level of security you need are all important factors to consider.
Related Post: Home Depot Exterior Doors
Here are a few tips to help you choose the suitable blind for your door:
If you have a sliding glass door, you'll want to choose vertical blinds. If you have a hinged door, you'll want to select horizontal blinds.
If you live in a hot climate, you should choose a material that won't absorb heat, like vinyl. If you live in cold weather, choose a material that will insulate, like fabric.
If you need a high level of protection, you'll want to choose a larger size. If you don't need as much security, you can select a smaller size.
The style of your door will dictate the color of the blink. If you have a modern door, you'll want to choose a neutral color, like white or cream. If you have a traditional door, you can choose a bolder color, like red or black.
The price is another essential factor to consider. Blinds can range in price from very affordable to quite expensive. It all depends on the materials and features you're looking for.
Applying Frosting film
You can apply frosted film to your glass doors if you want a more permanent solution than window film. This will create a frosted appearance that will block most light and visibility. Frosted window film is more expensive than regular window film, but it will last longer and is more difficult to remove.
Tips when Installing Frosting Films
It's essential to ensure that the area is clean and debris-free. You'll also need to make sure that the surface is smooth, making it easier to apply the frosted glass.
If you're not comfortable using a knife, you can also use sandpaper to rough up the surface of the glass.
Once the glass is prepared, you'll need to apply the adhesive. There are a few different types of adhesives that you can use, but we recommend using an acrylic-based adhesive. This type of adhesive is easy to work with and will create a strong bond.
Once the adhesive is applied, you can place the frosted glass in the desired location. Ensure that the glass is pressed firmly against the surface to adhere properly.
Allow the adhesive to dry for at least 24 hours before using the frosted glass. This will ensure that the bond is strong and prevent the glass from falling off.
Apply Spray Paint
Spray painting is a great way to add color and personality to any glass door. So spray painting is the way to go, whether you want to dress up an ordinary door or add some pizzazz to a boring one.
Here are some tips on how to use spray paint on glass doors:
Choose the correct type of paint. Two colors can be used on glass doors: acrylic and enamel. Acrylic paint is best for indoor use, while enamel paint is better for outdoor use.
Choose the right color. Consider that darker colors will show more imperfections than lighter colors when choosing a color.
Prep the door. Before painting, clean the door and remove any dirt or grease. Next, sand the door to create a smooth surface.
Apply the paint. When applying the paint, use light, even strokes. Start with one side of the door and work your way around.
Let the paint dry. Once the paint is dry, you can add a second coat if desired.
There are a few ways to cover glass doors for privacy. If you are planning to upgrade your glass door, one way to do this is to replace your existing door with either tinted glass, frosted glass, or privacy glass. Any of these will help you achieve increased privacy.
If you're not looking to replace your glass door, One Day Glass would be your great option. They pride themselves on their high-quality glass and offer all types that could provide more privacy for your home.
The company has a team of experts that can help you get the right piece of glass at the right price. Additionally, they can customize the mirror based on your requirements.
Contact One Day Glass today and get your quotation!