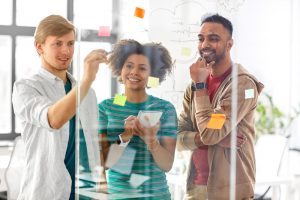 Glass boards are now the top choice compared to the regular whiteboards because of its durability and non-staining ability. They work just like regular whiteboards. The smooth surface can be used for writing with whiteboard marker or permanent markers. However, glass boards will never stain easily like a regular whiteboard does when used over time, and they are easier to clean and keep shiny.
Cleaning your whiteboard is easy, as well. However, no matter how much you try to care for your whiteboard, it will deteriorate over time. You will notice the stains become harder to remove, and over time, you will just have to spend money to replace your whiteboard.
How Do I Clean a Glass Whiteboard?
Cleaning and maintaining your glass board is easier than a regular whiteboard. Here are some tips and guidelines for cleaning your glass board.
Use a regular whiteboard eraser, sponge, or cloth when cleaning the glass board. Make sure that whatever material you choose is free of dirt and debris to avoid scratching the surface of the glass and damaging it.

Be aware of the effects of exposing the glass board under the heat of the sun when cleaning it. Cleaning solutions may create problems when used on the glass board under direct sunlight.

As mentioned, it is easier to clean a glass board compared to a regular whiteboard. You do not have to use harsh chemicals to keep the glass board clean. It is recommended that you use only mild detergent or even plain water to get rid of writings or dirt.

Temperature has an effect on glass.it can cause a thermal fracture of the glass. As much as possible, do not expose the glass board in a room where temperature changes extremely.

Do not leave adhesive tapes on your glass board. If you have to put up a visual aid on your glass board, make sure to it out immediately afterward after use.

If there is adhesive left on the surface of your glass board, do not use sharp and pointed materials to try and scratch it off the surface. It will only damage the board. Ask for a professional help if mild detergent or other cleaning solutions do not work.
Choosing a glass board over a regular whiteboard has many benefits and can save you money in the long run. They are durable and easier to maintain. If you follow the guidelines on how to properly clean your glass board, it will last you a lifetime.