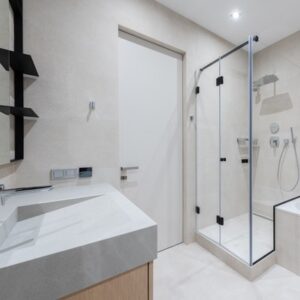 Modern glass shower doors offer a sophisticated look to your bathroom while providing low maintenance. One of the many variations of glass shower doors is the frameless hinged shower door. If you are planning to install frameless shower doors, you should know that shower door hinges are the ones holding them, so you must be wise in choosing them.
Read below to find out why you should choose frameless hinged glass doors; and how to replace the shower door hinges.
Pro-Tip in Handing Frameless Hinged Shower Door
Considering how the glass door opens, you will need a bigger space around the enclosure. Make sure to seek the help of professionals in measuring your area before purchasing a set.
Ensure that the showerhead faces a glass panel or the wall and not the door to lessen the leaks. Glass enclosures minimize leaks, but that won't work if water is showering directly at the door. Plus, your shower door hinges may loosen or get dirt buildup quickly with that much exposure to moisture.
Watch out for early signs of problems like unusual sounds while opening and closing the shower door. This could mean a problem with the panels or with the hinges.
Glass shower door hinges are more prone to rust, considering their frequent exposure to moisture. Rust formation can quickly loosen the hinges, making the doors harder to close. On the bright side, replacing the hinges is entirely doable.
Repair Tips for Shower Glass Door Problems
Thorough Cleaning
If you're having a hard time closing the door, check the whole enclosure if there's dirt, like mold, growing underneath the shower doors, this may be what prevents your door from closing correctly. Then, clean the glass door, preferably with ammonia-based cleaners, and go all over the door and panels.
Check the Screws
If the problem persists, check if the screws need to be cleaned as well. At this point, you may need someone to help you out. Remove the screws and then the door completely. Clean the screws, or replace them if the buildup doesn't come off.
Replacing Glass Shower Door Hinges
Sagging door hinges may be due to loose screws, which over time can cause the hinges to slide down. Ask for assistance to prevent the door from falling while you remove the screws. Once you remove the screw, yank the hinges off with a flat screwdriver or any similar tool. Next, remove the door from the frame to screw the replacement hinges to the door. Finally, reattach the hinges with the glass door to the frame.
Related post: Glass Shower Door Replacement Guide
Note: Rusted hinges require more effort to be removed, so you need to be very careful not to damage the connecting frame.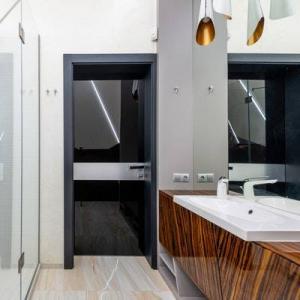 Bonus Tip: Taking Care of your Frameless Hinged Shower Glass Doors
Clean your glass panels regularly to prevent water stain buildup, which may cause damage if left unattended for a long time. Make it a habit to clean the glass doors inside and outside with a squeegee after every shower until the water in the glass panels dries out. Make sure that you don't leave any streaks or rubber marks from the cleaning tool.
It's good practice to leave the glass doors open after every shower. This is to let the air circulate within the shower area's intimate space and prevent mildew formation in your shower door, which can be hazardous in your bathroom. In addition, it would be helpful if you have vents installed that you can turn on before using the shower.
Keep your hinges squeak-free by occasionally spraying lubricant on them, which also helps the shower door to open smoothly. You can spray some on the handle to maintain that metallic shine and remove smudges. You can use lubricants in the glass door itself to get that water-repellent finish.
Why are Frameless Hinged Glass Shower Doors for you?
User-Friendly Opening
Hinged shower doors open outward to a 90-degree angle, which is great for seniors in the family or people with disabilities because they provide a sort of barrier from outside obstructions while opening. You can have these doors customized to have larger entryways too.
Low Maintenance Enclosures
Compared with sliding doors, a frameless hinged shower door doesn't have any racks which catch dirt or rust buildup over time. In addition, glass shower doors are generally easy to clean compared to shower curtains that are always wet and get stains. Soap residue, for instance, would simply take a sponge or a squeegee to remove.
Minimalist Aesthetic
Frameless hinged glass shower doors use minimal metal support, which gives it a more minimalistic finish. As a result, they blend seamlessly into any bathroom design while emphasizing the bathroom's décor like wall fixtures.
Frameless Hinged Shower Doors by One Day Glass
Another pro-tip you should keep in mind is to choose the right glass provider for your bathroom. The cost of frameless shower doors can be a bit high, but it will go higher if you source from the wrong partner.
Shower conversion ideas refer to various ways of transforming a bathtub or outdated shower into a modern and functional shower space. Some popular shower conversion ideas include replacing a bathtub with a walk-in shower, installing a new shower base or pan, adding a glass shower enclosure, or installing tile or other decorative elements. Other ideas may involve replacing shower fixtures, such as the showerhead and controls, to improve functionality and water efficiency. Shower conversion ideas may also focus on improving accessibility and safety, such as installing grab bars or a built-in bench.
A division of the Peninsula Glass company, One Day Glass offers professional and creative glass solutions at a very reasonable price.
Get a frameless hinged shower door that fits all of your requirements in, as the name suggests, just one day!
Contact One Day glass today!