Glass Office Walls: Their Benefits and Types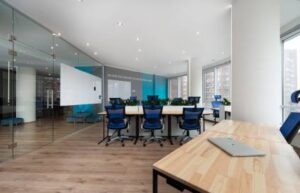 Many offices are built with glass walls to allow for natural lighting and views of the surrounding area. In addition to their practical uses, glass walls can add a relaxed, contemporary feel to your office that will impress clients and help you stay productive.
Unfortunately, it is easy for many employees to be distracted by what's happening outside their office window. However, there are numerous benefits that these types of office spaces provide that employees may not realize at first glance.
Here are some of the benefits one can enjoy in glass office walls:
Setting Boundaries
One benefit you may consider is that a glass office wall can be an excellent way to set boundaries for employees who do not typically have a designated workspace.
For example, without walls, it is hard for people who are new to the company or those who usually sit outside an individual's cube or office to identify where they should focus their attention and when they should keep distractions at bay.
Privacy
Glass office walls can be a helpful way to give employees privacy. For example, some companies designate a break room separate from their usual offices and cubicles.
Unfortunately, many employees will not have access to designated private spaces to hide away and focus on tasks without distractions. However, having large glass walls can help reduce interruptions in the workday.
Related Post: See-Through Office Walls With Tempered Glass Panels
Natural Lighting
Natural lighting can help reduce costs associated with powering lights and other office equipment. This benefit is probably one of the reasons why offices consider glass office walls.
However, employees may not realize how much more comfortable they can feel when their offices are flooded with light in the morning rather than being forced to use overhead lighting the entire day.
Aesthetic Appeal
Glass office walls are esthetically appealing for both employees and visitors. They will make the office look more elegant. In addition, glass office walls have a more open, modern feel to help companies promote their brand image-conscious society.
Open floor plans are also helpful when corporate meetings or other business events occur because they can use it as a makeshift conference room for everyone involved.
Related Post: Frameless Glass Doors For The Modern Office Design
Visible Effectiveness
Companies would consider a glass office wall to promote an atmosphere of productivity and visible effectiveness. It allows employees and managers to see exactly what people are doing without being told.
Glass offices provide a passive way for managers to monitor employees' progress and productivity because it is easy to understand whether an employee is working on a project because of their workstation. For example, if their desk is clear, it's apparent that they're not at their office.
Visual Appeal
Companies can keep employees interested in moving up within a company structure by offering them offices with glass walls. For example, some companies reserve their most extensive and most impressive offices for employees who have been at the company for a long time.
Types of Glass Office Walls
There are many types of glass office walls. And selecting the right one for your office or company can make a huge difference in how employees feel about their work environment.
Here are the types of glass office walls you can choose from:
Clear Glass or Transparent Glass
These types of glass offer little privacy but allow natural light to stream into the workspaces. Clear Glass is a type of glass that offers little privacy and allows natural light to stream into the workspace.It can help set boundaries with employees who do not typically have a designated office, but it is also the least private glass office wall.
Semi-Transparent or Tinted Glass
These types of glass offer more privacy than their clear counterparts, but they do allow employees to see out into the hallway or main work area. It can be a nice mix of office privacy and natural light.Semi-transparent glass is similar to clear glass, but it allows for some privacy while still offering employees opportunities for natural light to come into the office.Semi-transparent glass is a popular choice for companies to give their employees some privacy without being completely enclosed. It is also applicable to sit in meeting rooms, especially if you want to keep confidential details from the presentation. No one can read them except the ones in the room.
Etched Glass or Frosted Glass Walls
This type of glass offers the most privacy, but it can be challenging to see out of when you're on the inside. Nevertheless, it allows employees to focus on their work without distraction and can be an excellent choice for offices with confidential projects.Etched glass is the most common type of office privacy glass because it allows employees to maintain a high level of confidentiality when working on new products or services that not all of their colleagues need to know about.
Colored Glass or Stained Glass Walls
This type of glass offers the most privacy while also allowing transparency to employees who work in an open office environment. It is one of the most popular companies with glass offices because it will enable them to maintain confidentiality without creating too much distance between managers and employees.Colored glass office walls are popular choices for companies with glass offices because they maintain confidentiality while maintaining opportunities for managers and employees to connect in an open work environment. It is also a great choice to make your office more attractive without spending too much money on expensive renovations.
Mirror
This type of glass offers the same level of privacy as etched glass but is much more affordable. It is an excellent choice for companies who want to give their employees some level of confidentiality but don't have the budget to completely enclose them with a different type of glass wall.Mirror office walls are a good option if you're looking for a high level of confidentiality without spending too much money. It is also a good choice if you're short on space and wants to maintain the illusion of an open work environment without increasing your company's footprint too profoundly.
If you are planning to install office glass walls, you need experts who will guide you from choosing the perfect glass to installation until the job is complete.
A glass office desk is a type of desk commonly used in professional settings such as offices and workspaces. It is typically made of glass and metal, although some designs may incorporate wood or other materials. Glass office desks come in a variety of shapes and sizes, from large L-shaped configurations to smaller, more compact models.
One Day Glass takes pride in high-quality craftsmanship and the latest technology to produce orders for just one day! They also provide all types of high-quality glass that you can use as glass office walls.
Contact One Day Glass today, and get a free quotation!