Custom Shower Doors Can Make or Break Your Bathroom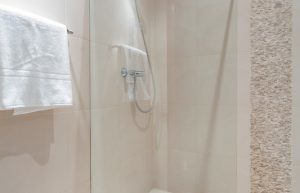 When designing or remodeling their bathrooms, most people spend a lot of time choosing the perfect fixtures or shelving but rarely do they spend as much time designing the shower area. Despite the fact that we use the shower every day, it is the fastest design choice because most contractors or designers already presented clients with a pre-designed bathroom fixture and system.
When a shower area is badly designed, uncomfortable, or does not properly localize the water from the shower head, it can be a nightmare. The shower should be a comfortable and relaxing space that also adds luxury and style to the bathroom. Custom shower doors can be a great way to achieve the bathroom and shower of your dreams.
Choosing Your Custom Glass Shower Door
Choosing the perfect shower doors can be very overwhelming. Shower doors have certainly evolved over time and there are several options if you are looking to update your bathroom's look.
Frameless shower doors can make your bathroom appear larger. They are very trendy and provide a seamless look as they have very little metal. You can also choose frameless glass doors as they will allow natural light in and provide an open space where you can visually see intricate tiles and other features of your bathroom.
There are also other options for custom doors such as barn-style sliding doors. These doors are great for smaller spaces and bathrooms.
Whatever your preference, custom shower doors are a great addition to your bathroom and a licensed professional can help you decide the best fit for you and your home. Adding custom shower doors is a great investment for your home and will also add comfort and tranquility into your daily life.