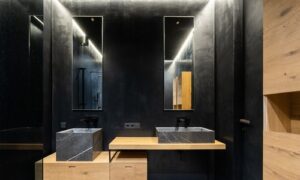 A beveled edge mirror is both stylish and durable; and a great addition to your home.
These mirrors are widely available in the market in different shapes and sizes, so you can find one that surely fits your style.
Read below to find out more about beveled edge mirrors; why they make such great additions to any room, and where you can purchase them.
What are beveled edge mirrors?
Beveled edge mirrors are unique for the way their edges are cut. Their angles are usually cut at 45 or 30 degrees, which can be used for various purposes like increasing the aesthetic and reflecting light in multiple directions, so you get more illumination than with a flat mirror of the same size. As a result, beveled mirrors are a great way to add brightness and elegance to any room of your house or office.
The beveled mirror is available in different finishes. You can even have a beveled wall mirror or a beveled full-length mirror. Whatever your preferred shape and size, expect that this type of mirror can complement the interior design you have.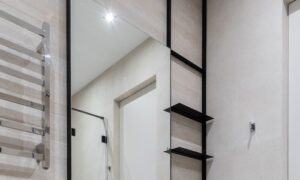 Get a lovely beveled edge mirror from One Day Glass.
Why Use a Beveled Edge Mirror?
If you're after that minimalist elegance, the beveled edge mirror will definitely be your thing. Here are more reasons why you should get one for your space:
Beveled edge mirrors are refined in a way that you won't have to worry about accidentally cutting yourself or anyone due to sharp edges. They're completely safe.
This kind of mirror looks decorative and creates a sort of accent feature to whatever room it's in.
They also create an illusion that makes your room look bigger and brighter because of its natural reflective capabilities.
The beveled edges serve as frames, so the mirror itself won't need one.
You can always get a design and shape that will fit your preference.
How to choose the right one for your space?
The Entrance
Some homeowners love to hang a beveled mirror together with the foyer table. If you're getting a rectangular or oval mirror, you may place it over the foyer table between 30 to 36 inches high. The width should be between 50 to 75 percent of the length of the foyer table.
If you're planning to install a square mirror, you can pair it with large-scaled furniture that has a length of 48 inches or longer. For example, placing a round beveled mirror would look great over a foyer table, but its length shouldn't be less than 20 inches.
Living Room
One of the best spots to hang a rectangular beveled wall mirror is above the couch in your living room. You can place it directly over the couch or sofa for about 8 to 12 inches. If your couch has a thick cushion, you may consider hanging the mirror for about 10 to 12 inches over.
Over the Console Table
Console tables are very popular among Western and European houses. It adds elegance to a room and quickly catches the attention of visitors upon entry. Putting a well-shaped beveled edge mirror over the console table can add to that wow factor the room has, making it look like something out of an interior design magazine.
A round, square, or rectangular-shaped beveled mirror would look great over a console table.
Hang the mirror around six to eight inches above the table to create a gap. This gap between the decors on top of the table and the mirror will avoid overcrowding the space.
Dresser
You can add more value to your dresser by hanging a beveled edge mirror above it.
The mirror can be round or square, with a size between 70 to 80 percent of the width of the dresser table. This is to create a balance between the dresser and the mirror.
Bathroom
A beveled full-length mirror is perfect for you to check your body after every shower or one above the vanity so you can check yourself before you head out for the day.
When putting a beveled mirror over the vanity, a rectangular-shaped that stands vertically would look great; this is to allow a decent reflection every time you're facing it. Keep in mind that the mirror shouldn't be wider than the sink of the vanity. If you have a 50-inch wide sink, you must install a 46 to 48-inches wide mirror.
Full Body Mirror
A full body mirror is a type of large mirror that allows a person to view their entire body from head to toe. Typically rectangular in shape and mounted vertically on a wall or attached to a stand, full body mirrors are commonly used in dressing rooms, bedrooms, and fitness centers. They come in a variety of styles, including framed and frameless options, and may feature additional features such as LED lighting, magnification, or tilt functionality. Full body mirrors are often used for personal grooming, outfit coordination, and body checking purposes.
Conclusion
Getting beveled edge mirrors around the house or in every room is an excellent addition to your home. They brighten any room and make up for great wall decor, giving your home that sophisticated look.
Get a well-made beveled edge mirror with One Day Glass. One Day Glass is complete with all of your glass furnishing needs, including the beveled edge mirror. Just provide them with your desired shape and size and get your glass quicker than you might expect.
Call One Day Glass today and discuss your requirements!