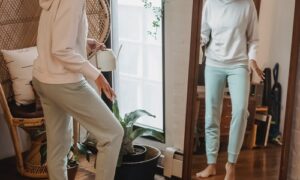 The full body mirror is a new type of mirror that has been introduced to the public in recent years. These full-body mirrors allow us to see our full bodies at all angles, and one of the essentials inside a bedroom or a dressing room. Full body mirror are also known as full-length mirrors or even simply full-size mirrors.
Everything You Need to Know about a Full-Body Mirror
Though full-body mirrors are common in every house, there are probably be little information that you may not know about them, especially their measurement and installation techniques.
Length
A full body mirror is usually rectangular and a few feet taller than it is wide. So, facing it, you will see your full height. But, what should be its ideal measurement?
While there's no prescribed length for a mirror to qualify as "full-body," a full-body wall mirror typically is in the range of 43 × 15 inches to 68 × 32 inches. When choosing how long your mirror should be, a helpful tip is to use your own height as a measure. To see your full reflection on a mirror, it needs to be at least half your height.
So, for example, a 5-feet tall woman wearing 3-inch heels would need a mirror at least 4 feet in height to see her full outfit.
Frames
Full body mirror  come in all manner of shapes, sizes, and along with it, frames and frame materials. As with the height, there is no prescribed framing material. Most of the time, it comes down to the room's aesthetics you are putting the mirror in. Make sure your chosen mirror's frame fits the theme of the room.
If you're choosing durability, you can never go wrong with a high-quality wooden frame or something made out of metal. These two materials are both sturdy and can be efficiently designed and etched on.
For functionality, you might want to look into using a full-body vanity mirror. This type of full-length mirror has a light source around its frame. These provide a better view of one's reflection in the mirror.
Mounting and location
Mounting is the act of setting your mirror in place. You have several options.
You can opt for a leaning mirror, which leans on one of your walls, as the name suggests. It is a simple method and creates a particular aesthetic that fits well with a minimalist theme.
An over-the-door mirror uses specialized hardware to hang your mirror on a door. As a result, it saves space and utilizes an otherwise rarely used space.
A full-body wall mirror is attached or hung on the wall using screws or nails.
Lastly is a freestanding mirror, which is designed that needs no other support and can stand on its own. It usually has legs attached to its frame.
However you mount your mirror, remember that each has its pros and cons. For example, fixed mirrors are great when trying to create the illusion of a larger room. However, attach a mirror on opposite-facing dividers, and it will make the space look bigger.
On the other hand, freestanding and leaning mirrors are adjustable and easily moved around the room.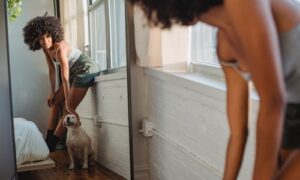 So, Why Install a Full-body Mirror?
Now that you know the basics, we'll discuss the why.
Body mirrors not only help you prepare every morning and provide you with a positive attitude about yourself as you see your reflection every day. They also have a host of other benefits that you might not readily appreciate.
Here are some benefits that might finally convince you to buy one of your own.
Mirrors create space.
Well, not literal space. As discussed earlier, mirrors, like a full-body vanity mirror, can make it seem that the room is bigger than it actually is. In addition, mirrors reflect light within an area, so it is wise to place them near a light source like windows.
Mirrors are an artistic statement.
People use Body vanity mirrors as a way to express their artistic tendencies. There's no limit, whether you're trying to be minimalist with a freestanding mirror or a heavy and industrialized theme with a steel-framed mirror.
Mirrors hide damages
Homes are bound to get a few bumps and scratches through the years. Mirrors are perfect at shielding these from sight, creating a blemish-free interior for you and your guests to enjoy.
Get your own full-body mirror
A house is never complete without a full-body mirror, even a full-body vanity mirror in your bedroom. So, if you haven't got one, check with One Day Glass. They offer to customize mirrors that will definitely meet your requirements.
If you wish to install it in a specific location, they can check the place to design and measure accordingly. You just have to let them know what you need and how you want it to be, and they will do the rest.
Contact One Day Glass today and get your free quotation!