Bathroom Shower Glass, The Difference is Clear!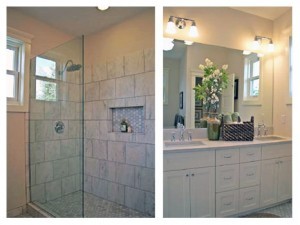 Dreaming of Remodelling and Modernizing Your Bathroom Design, Then Consider First to Look In Updating Bathroom Shower Glass and Fixtures
Your bathroom is probably not where your guests hang out when they come for a visit, but it is one room that your guests expect to feel comfortable in should they pay a visit. Updating your bathroom's glass fixtures and bathroom shower glass is one easy way to add comfort and modern style to a dingy-looking, outdated bathroom.
Bathroom Shower Glass remodel
Greg and Laura Perrin, owners of Columbia Redevelopment, turned to One Day Glass in their latest project in Portland, OR. Columbia Redevelopment specializes in purchasing and reinvesting in homes to place back on the market. Their bathroom remodel of this home features a beautiful, large beveled mirror and clear shower partition from One Day Glass. Replacing an old mirror is a relatively inexpensive way to visually expand a room while adding more brightness and warmth with its reflective lighting. The large beveled edge on this mirror also gives it a finished look which blends into the wall without distracting from the other room accents. Replacing your soap-scummy, dingy shower doors or partitions also gives a visual expansion of your bathroom, opening up the shower area to showcase any new tile or stonework you may have done.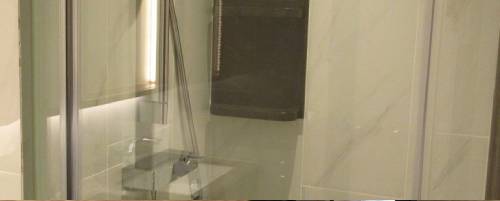 One Day Glass helps find great design inspiration in remodelling your bathroom shower glass and fixtures. When you contact us at One Day Glass, you'll know instantly that you've made the right decision. Investing in updated bathroom shower glass adds value to your home and modern appeal for those hoping to sell. Our friendly staff can help you with practically any custom cut glass design, and the best part is, there is no minimum order! We work with individuals as well as large companies to make sure you get your glass quick, safe, and top-quality. At One Day Glass, the difference is clear! Contact us today to see how we can help!