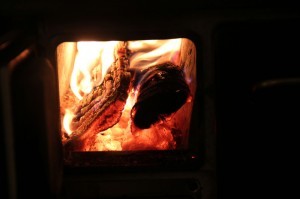 Looking for an idea about Wood Stove Glass made from Ceramic?
Modern wood stoves use a clear heat resistant glass made from ceramic. This will not break from heat, but it can be broken when struck by a fire poker, being hit by a piece of wood or by over tightening the retaining clips.
Most wood stoves have some sort of clips or retainer system to hold the wood stove in place. These clips are fastened with steel of cast iron bolts. This should have a gasket around it to fill the gap between the glass and the cast iron wood stove. The gasket is needed because the cast iron will grow and shrink during heating and cooling.
If your wood stove does break, it is generally an easy repair for the home owner to make. It is important to avoid the common mistakes that can be made in ordering and installing woodstove glass.
Order special heat resistant ceramic glass for your wood stove instead of tempered glass. Ceramic glass is sold under brands such as Neoceram (3/16" or 5mm) and Pyroceram (1/8" or 3mm). Ceramic glass does not expand or shrink with heat or cold and survives well in high temperature applications such as in a wood stove. Where to order wood stove glass.
Get accurate measurements. If possible, try to reassemble the broken glass on a piece of paper or cardboard that is larger than the original piece of woodstove glass. Trace the assembled piece of glass. After removing the broken piece you can easily measure the pattern.
Do not over tighten screws. Though the glass does not expand or contract with temperature, the metal door will. If the screws are too tight this can cause the glass to break as the door expands and contracts. This is the most common mistake that people make when trying to install their replacement glass.
When in doubt, replace the gasket material. Old compressed seals can allow the ceramic glass to come in contact the metal and not allow the ceramic glass to "float". If the glass is held too tightly, the door can distort in the heating cycle and cause the glass to break.
More on wood stove glass installation tips. See the video below as an example of wood stove glass replacement.
Ceramic glass is sold under a number of different brands such as Pyroceram, Neoceram and Robax. There is very few measurable performance or visual differences between these brands. More on the comparison of wood stove brands. What is important is to choose ceramic glass cut precisely to your measurements.