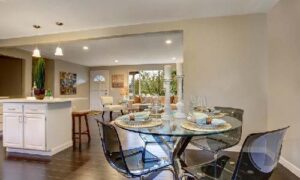 If you often wonder why tempered glass table top is more preferred than the regular glass table top, then read further (learn more about tabletops here).
"Safety Glass" feature
The tempered glass is distinguished from the ordinary glass by its manufacturer. It undergoes an extreme heating treatment (beyond 600 degrees Celsius) and is put through "quenching," a rapid high-pressure cooling process. This process makes this glass four times tougher than ordinary or annealed (toughened) glass.
Wide-ranging customization
The tempered glass table top comes in many forms and sizes. If you want a unique design, you can always ask your contractor to customize your glass to your liking.
Effortless maintenance
This is undoubtedly true. You don't have to worry about stubborn food stains or dust, as you can easily wipe off any of them with a cloth or a duster. A dry lint-free cloth will remove light dirt, and a damp cloth will take away stuck-on stains. You can learn how to clean your glass table tops here.
Shockproof
This type of material is so sturdy you cannot easily damage it when you hit or bumped. This is a safety benefit you need, especially when you have kids and pets running around.
Artistic appeal
This type of glass looks exactly like an ordinary class, except that it is safer and stronger. You don't need to worry about its aesthetics because its reflective appearance will give a good compliment to your space.
Learn more on how to customize your tempered glass table top here.