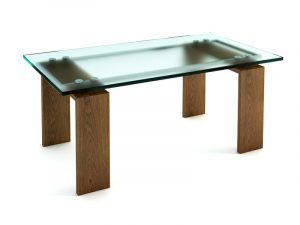 A tempered glass tabletop is where you temper a glass. This means you are adding strength to the glass.
Tempered glass is five to seven times stronger compared to normal or annealed glass. They are also harder to crack than regular glass types.
One other term for this glass is safety glass because it turns into pebbles when it breaks or shatters.
The risk and danger posing for you and your family are far less when you have tempered glass. Regular glass can break immediately and injure people around it.
How would you know if your glass tabletop needs to have tempered glass installed on them?
There are classifications of glass to determine whether they need more protection.
When you have ½" inch thick types, they aren't tempered because of their thickness strength.

Yet, for glass that is ¼" and ⅜" thick, the tops are perfect for a tempered glass table top.
Is Tempered Glass Safe?
Using tempered glass will not change how the tabletop looks like, nor would it add weight.

Safety is no problem when you temper glass at home or at the office. It's also the reason why tempering is one of the best go-to options for people who want safety.

You can be sure that your living space with glass is danger-free at all costs.
Having a tempered glass table top is not a requisite for all glass table tops. If you live in a home with kids and have pets, you might want to consider tempering the glass. Take a look at your surroundings and think about what you need to add to ensure the safety of the home or office.