Replacement Wood Stove Glass – Tempered or Ceramic Glass?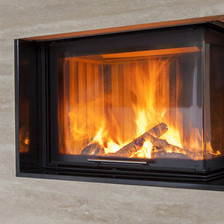 Your wood stove glass needs replaced; how do you know what to replace it with? Many times by the time your wood stove glass needs replaced, the manufacturer no longer makes the replacement glass for your wood stove model. The first temptation may be to look at new wood stoves, but there's another option: you can order custom-fit wood stove glass. Where do you start?
Replacement Wood Stove Glass – What's the Right Choice?
You can determine what glass your wood stove requires by asking a few questions:
Does your wood stove burn gas, wood or pellets?  Wood pellets or wood fuel would burn at much higher temperatures and you would need something more thermal shock resistant, like a clear ceramic "glass".
Did your glass shatter into small pieces or larger shards? If the glass broke into small pieces, your glass was tempered. If it was larger shards, your glass was likely a ceramic or non-tempered glass.
Is your wood stove sealed air tight with a fiberglass seal? You will definitely need a thermal shock resistant ceramic "glass" for your wood stove.
What's the Difference Between Tempered Glass and Ceramic Glass?
Tempered glass is used in applications where the maximum heat output is below 400 to 500 degrees, and where the flame is more than 6" away from the glass. When temperatures exceed this limit, you'll want to select a ceramic "glass" which is more thermal shock resistant, meaning that drastic changes in temperature will not cause the glass to crack or break. Wood stoves typically reach temperatures far exceeding that safe for tempered glass and you'll want to consider NeoCeram® or PyroCeram® for your replacement.
If you want to learn more about buying replacement glass for wood stove, check out "Essential Guide For Buying Replacement Wood Stove Glass".