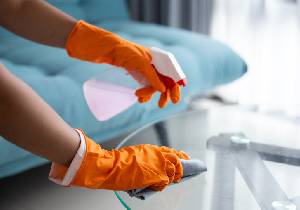 Installing a tempered glass table top is a great investment. It's important to maintain its cleanliness to see that immaculate shine from the glass. In some cases, you might see certain cloudy textures on the glass and it's important that you know how to clean this.
Tempered glass is a well-known type of tough glass that can break into pebbles with rounded edges. This is in contrast with sharp edges of regular glass. rather than sharp ones. You need to note that tempered glass table top are prone to scratching. This is why you should clean it with no abrasive cleaning products.
Cleaning Tempered Glass The Right Way
Start mixing dish soap with water and place it in a spray bottle.

Spray the mixture on the tempered glass surface.

Let it set for a few minutes to catch all the dirt on the glass

Take a sponge and use it to remove the mixed cleaner

Take a clean soft cloth and wipe the glass dry
You are free to use any glass cleaner, as long as it is also safe to use on tempered glass. You might think about using more DIY products, but always avoid vinegar. Vinegar is among the products that are too abrasive and can damage the glass.
Having tempered glass table top means you have double protection on your glass table top.  Yet, you should also know how to clean it well. The best option for cleaning is to look for tempered glass cleaners for ultimate results. Yet, if there is none in your area then regular dish soap and water will do as well as normal glass cleaners.