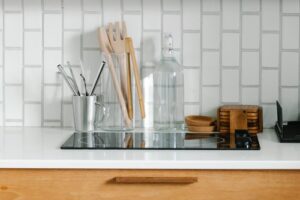 We start each day by making meals for our loved ones. We even mingle, eat, and cook with them right in the kitchen. Family and friends will be drawn into the heart of your home by a functional and visually beautiful kitchen. And one easy way to beautify your kitchen is with a tile kitchen backsplash.
To modernize and update your property, all you have to do is change the backsplash in your kitchen. It allows you to brighten up your environment with a burst of color or an eye-catching pattern.
When it comes to kitchen backsplashes, you should have something that withstands daily use and spills. Glass tiles are an excellent choice for kitchen backsplash because of their shiny and easy-to-clean surface.
Glass kitchen backsplash tiles are a standard pick among homeowners and kitchen designers for this reason.
Benefits of Glass Kitchen Backsplash Tiles
It's Versatile
Glass tile is one of the most versatile tile options for adding a personal touch to your house, with an almost unlimited variety of colors, sizes, forms, and patterns to choose from. In addition, it is one of the most accessible tiles to combine with different tile materials.
It also has the unique ability to reflect light in ways that other tile materials can't, making your kitchen or bathroom appear larger, brighter, and more inviting.
It's Low Maintenance, Easy to Clean, and Long-lasting
Glass tile has 0% water absorption and is stain resistant, making it a low-maintenance solution for your house.
To clean it, all you have to do is spray and wipe. It's an excellent backsplash material for places prone to spills and splatters.
Glass tiles are also heat resistant, so they are unlikely to crack, deform, or change color.
Mold and Mildew-Resistant
Wood and metal backsplashes, for example, create an ideal environment for mold, mildew, and germs to thrive. However, because glass is impenetrable, it will not harbor germs or bacteria that could jeopardize your family's health.
It's Eco-Friendly
The glass used to create the tiles has been recycled in many cases, and the tiles themselves can be recycled if you ever chose to remove them. This means you may construct your perfect kitchen backsplash using a variety of glass kinds. You may even give your backsplash a personal touch by using recycled glass mosaic tile pieces from your own resources. It also offers insulation capabilities, making the kitchen warmer in the winter and cooler in the summer, thereby saving you money on energy bills.
Kitchen Backsplash Glass Tiles Ideas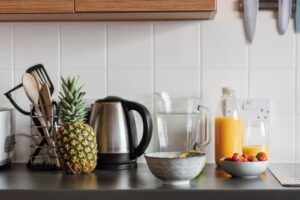 Find a modern glass kitchen backsplash that matches your style and budget with these options.
Glass Subway Tile Kitchen Backsplash
The beauty of subway tiles is their simplicity. Subway tile comes in several hues and tones to meet any design taste, whether your kitchen is contemporary, modern, farmhouse, or even classic.
Subway tile is a timeless classic for a reason: it's simple, and it's versatile. Moreover, it's a budget-friendly option that goes with just about any color scheme.
Glass Hexagon Style Kitchen Tile Backsplash
Hexagon kitchen tile backsplash tends to reflect its surroundings, so it works well with various design styles. The geometric, sleek design works well in multiple settings, including classic, farmhouse, modern, traditional, bohemian, minimalist, etc.
Glass Triangular Tile Kitchen Backsplash
Geometric tiles will liven up any modern kitchen backsplash by adding individuality and depth. In your home, you can use triangular tiles to create a stunning, modern effect. A glass triangular tile kitchen backsplash is both fun to look at and fun to lay. Its body shines brightly, and its shape gives any wall a warm, inviting movement.
Glass Penny Round Tile Kitchen Backsplash
Because of their versatility and capacity to shape-shift in every space, these round, small tiles are right on par with subway tiles in terms of appeal in the home design world. You can easily trim them into colorful tile borders or backsplash medallions to add beauty and charm to your stove. In addition, glass penny round tiles are excellent at hiding stains.
Contact Us Today
Are you ready to place your order for a glass kitchen backsplash today? Then, prepare to beautify your kitchen with glass backsplashes. You will never know you need it until you see the result and the extraordinary beauty it creates.
Glass backsplashes aren't going anywhere anytime soon. On the contrary, they're more fashionable than ever, not to mention better and brighter. It will even turn your dull kitchen into a modern and appealing look.
One Day Glass can make customized glasses to complement the decor of your home. They come in a variety of shapes and sizes and will add a unique touch to your home. You just need to inform them what you need, and the result you desire, and everything will be done according to your requirements.
Call One Day Glass today to discuss your glass kitchen backsplash project.