Glass Deck Railing Panels Preserve the View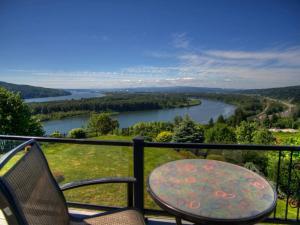 Glass deck railing panels are a great, modern option for those wanting to preserve the beautiful view from their deck (like this customer), or even just to surround your sparkling pool to keep the kids and pets out when not in use. Using glass deck railing panels creates a safety barrier while allowing you to view the natural wonders (or your pool) in your very back yard.
What Kind of Glass Do I Need For Glass Deck Railing Panels?
Always use tempered glass for glass deck railing panels, or better yet, laminated tempered glass for added safety. Using anything less than tempered glass poses a hazard if someone bumps into the glass and it shatters, leaving sharp edges. Other common potential hazards that could shatter non-tempered glass are from thrown balls or toys, or if a bird were to fly into the glass panel.
What is Tempered Glass?
Tempered glass is processed through an extreme heating and rapid cooling process to harden the glass, making it much harder to break. If breakage does occur, it will not leave sharp shards for someone to get cut on. Using tempered glass for your glass deck railing panels still provides you with a beautiful crystal clear view while also maintaining safety for your family and guests. Laminated tempered glass takes it a step further by holding the pieces together if breakage occurs.
Where Can I Buy Glass Deck Railing Panels?
Whether you're replacing your glass deck railing panels or working on a new project to replace your old deck fencing, One Day Glass can provide you with quality, custom sized tempered or laminated glass at a price that's more affordable than the competition. Most glass orders can also be processed within one business day so that you can get your project or repair completed faster.
One Day Glass is also known for excellent customer service, so if you're considering installing glass deck railing panels for your deck or pool, give us a call and we can answer any questions you might have.