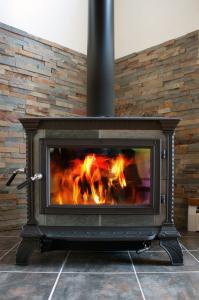 Fireplace and wood stove glass replacement is typically not a problem, unless the original manufacturer decides not to produce the replacement glass anymore. The good news is that you're not stuck with having to purchase a new unit; you can still order both fireplace and wood stove glass replacement, custom sized for your application, from custom glass companies such as One Day Glass.
Which Glass To Use For Fireplace and Wood Stove?
When dealing with high-temperature applications, such as a wood stove, you'll want to use what's called a ceramic glass. Ceramic glass is actually a clear or amber ceramic material, and is not actually glass.
Unlike glass, ceramic does not expand and contract in response to temperature and therefore, will not shatter when "shocked" by sudden changes in temperature. Ceramic glass will also tolerate a higher level of constant heat, which is typical of wood stove usage during cold autumn and winter months.
Tempered Glass is Cheaper; Can I Use That?
Some fireplace applications might be alright to use tempered glass, as long as the flame is more than 6" away and it's unlikely that the heat will exceed a continuous temperature of 482 degrees. Gas fireplaces are more likely to tolerate tempered glass, however, if you're not sure, it might be worth the extra cost for ceramic glass to preserve the longevity of your fireplace glass replacement. Never use tempered glass for traditional wood stoves.
Where Can I Get Ceramic Glass or Tempered Glass?
One Day Glass offers superior NeoCeram and PyroCeram glass for custom sized fireplace and wood stove glass replacement, as well as tempered glass appropriate for some fireplace applications. If you're not sure which glass to order, contact us at One Day Glass and we can help!