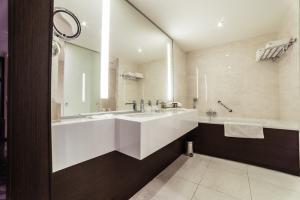 Contrary to popular belief, mirrors can still look great even without a frame. In fact, a frameless mirror is actually a better choice to achieve a particular look that matches your interior. If you are looking for other reasons to choose a frameless mirror over one that has a frame, here are some of them.
Why Choose Frameless Mirrors?
There is beauty in simplicity. It gives off a vibe of a simple and clean look, especially in the bathroom. Frameless mirrors are sleek and stylish, unlike those with frames that are bulky and over the top.

Frameless mirror easily matches any style or theme of your interiors. Unlike a framed mirror that has fixed style, a frameless mirror can suit any room theme or wall design. They can go well anywhere you put them. You do not have to change your mirror when you decide to remodel or renovate your home.  

They can be classic and timeless. More than matching any interior design, a frameless mirror will never ever go out of style. You can constantly change and remodel your home without having to change your mirrors. Regardless of how modern or how simple you want your room to be, a frameless mirror will match the style.

Frameless mirrors provide a larger reflective surface. Because it is frameless, you will get more surface area as an actual mirror. The reflective surface also gives off a feeling of larger space that is especially great for smaller rooms.

If you do not want a rough edge, you can opt for a mirror that has a beveled edge. That way, you do not need a frame as a design and there will be no rough or sharp edges. A frameless mirror with beveled edges is very sleek, modern, and elegant. You can have your mirror beveled no matter the shape or size you choose.
How To Choose The Right Design
If you want a more decorative frameless mirror, there are a lot of designs to choose from that would fit your preference. Some factors that you may have to consider are:
These factors vary depending on your style, the amount of space you have, and where you will put up the frameless mirror. In a nutshell, choosing a frameless mirror over a regular framed mirror makes a great upgrade to your boring room that will not break your bank. They will enhance the beauty of your room and can last you a lifetime and countless home upgrade.