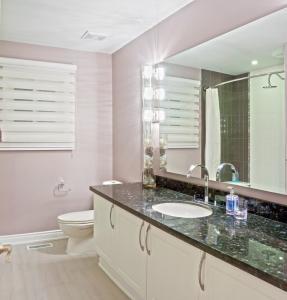 Add custom made frameless mirrors to add depth and space to any room. Make small rooms appear larger. Mirrors are an easy way to reflect light and add warmth to a room. Use mirrors as decorating accents. Here are some ideas.
Small Rooms: Do you have a small apartment or area of your home that you want to enlarge and brighten?  Adding a wall mirror(s) will visually enlarge and brighten the space.
Fireplace: Adding a wall mirror over an existing fireplace will brighten the room and add warmth, welcoming people into the room.
Above the Sofa is often a great place to add a large horizontal mirror. This helps create a beautiful focus in the living room.
Patio or Lanai: Add a large mirror brighten the room by day and reflect candle light beautifully by night. A large mirror hung along one wall next to a small garden can give the impression that the garden goes on forever.
Kitchen: Use mirror glass in kitchen cabinet doors to enlarge a small kitchen. Use as a beautiful accent when combined with granite counters.
Closets and Wardrobes: Add mirror panels to give a full length mirror. Very effective visually even when the mirrors are broken into smaller sections of 4-8 square feet each.
Whether you're using them to make sure your tie is straight or to add depth and natural light to a room, frameless mirrors have a place in your home. One Day Glass can provide custom frameless mirrors that will increase the beauty of your residence while giving it a unique look. These custom mirrors can be a variety of shapes and sizes and will add that special touch to your residence.