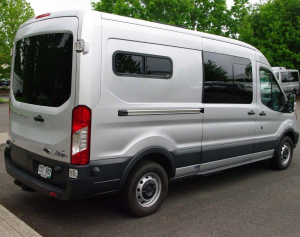 Whether your van conversion plan is to hit the open road and travel with the family, or a custom conversion for your specific business needs, you now have the option to replace those standard stationary windows with quality aftermarket custom van conversion windows. Custom conversion windows add a beautiful and functional finishing touch to your luxury or custom conversion.
Custom Van Conversion Windows
Custom conversion windows for camper and cargo van will allow you to open and shut the windows, allowing airflow into the vehicle. Most of our custom conversion windows have a stationary section at the top, separated by a "T" at the bottom, which allows you to slide the bottom panel open and shut. The reason for this design is intended to accommodate the curvature of the sides of the vehicle while still allowing you to open the windows.
We specialize in aftermarket custom conversion windows for the Mercedes-Benz Sprinter, the Dodge Pro Master, and the Ford Transit. General pricing for these windows can be found on each of their corresponding pages, but you'll want to call us for a quote when you're ready.
How Can I Order Conversion Windows?
While we are experts in custom window manufacturing, van makes and models can vary greatly in curve, shapes and sizes, so you will want to speak with your professional van conversion outfitter for details on window measurements to make sure you're getting just the right fit for your van. Once we have the specifications, you can contact us by phone to get started on a complete quote.
Custom conversion windows are typically done within 4-6 weeks.
Questions? Contact us!