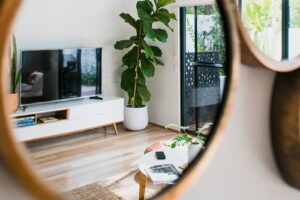 One decorating method is guaranteed to make a room appear larger, Mirrors! Mirrors are a well-known and straightforward technique to increase light to any room and create the sense of a larger space in any area, no matter how small or dark it is.
Currently, contemporary styles such as framed rectangular mirrors for walls and bathrooms are popular. Mirrors come in various shapes, sizes, and orientations, but round mirrors are the most versatile and elegant design options. And in our book, the larger the round mirror is, the better.
In practically any space of your home, round mirrors provide a stunning and fashionable impression. A round mirror is an essential component of every room and can successfully complement any existing living space. Large round wall mirrors can be used as a statement piece in any room of the house, giving a breathtaking elegant quotient to foyers, living rooms, bathrooms, and bedrooms. With various frame styles ranging from sleek and elegant to classic and brassy, the circular shape elevates the mirror from functional to ornamental.
Best Areas to Put Large Round Wall Mirrors
Large Round Wall Mirrors in Bathrooms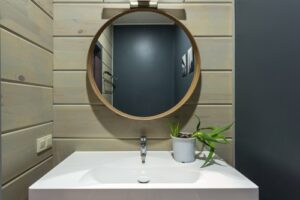 Round wall mirrors and bathrooms are strongly intertwined. A stunning round mirror is essential for transforming your bathroom into a pleasant, spa-like retreat for visitors. When installed on the wall in a bathroom, they quickly add dimension. Large round bathroom mirrors do not have sharp or rough edges, giving the bathroom a beautiful smooth finish. The most common location for round mirrors is above the sink. A large mirror mounted in a frame or directly to the wall makes shaving and applying makeup much more manageable.
Large Round Wall Mirrors in Bedrooms
Many bedrooms are uninspiring, especially for people who spend little time in them. Add some personality and decor to your bedroom with a decorative round wall bedroom mirror. You can choose something classic and vintage, a rustic-styled mirror, or something elegant and dramatic with large round gold mirrors, depending on your personality.
Large Round Wall Mirrors in Over a Fireplace
A large mirror hung above a fireplace can bring warmth and dramatic impact to the space. Position a mirror on either side of a fireplace to make the room appear larger and more spacious.
Large Round Wall Mirrors in Living Rooms
A round-shaped mirror in the living room doubles the amount of space in the room. It maintains its well-balanced design components, which give it a more minimalistic feel at home. By placing a mirror on the opposite wall of the window, you may also make your room feel cozier with the afternoon light
Large Round Wall Mirrors in Hallways
When you properly place a round mirror at the hallway's point of focus, a small dark hallway can appear more expansive. It permits a small amount of light to be reflected, making the room feel even lighter. By merely reflecting the hall walks, it produces the illusion of a brighter and bigger corridor
Large Round Wall Mirrors in the Entryways
A circular mirror in the foyer or front entryway makes a striking statement and helps set the tone for the rest of your home. In addition to opening up the floor atmosphere, it also allows you to check on yourself as soon as you enter the room and take one last glance before leaving. You'll have more time to evaluate your look before rushing out the door. To appeal to the people who will arrive, choose large gold round wall mirrors or opt with silver or black borders.
Large Round Wall Mirrors in Children's Bedroom
A child's room can be a terrific place to hang a round mirror. The majority of children enjoy watching themselves in the mirror and watching how they move. You can turn it next to their crib so they can see what's going on around them. Aside from the room aesthetics, It will support their visual activity, movement, cognitive growth, and independence.
Guides in Choosing Round Mirrors
Having the proper mirror on the wall will give your area a tasteful touch; it is just as vital as having a good house design. How do we know we obtained the right large round wall mirror that satisfies our needs and meets our taste and quality standards now that we know where to install it?
Budget
The greater the price, the greater the mirror. If you want a high-quality mirror, start by setting aside a reasonable budget. Keep in mind that the more money you're willing to pay, the more likely you are to receive high-quality materials. If you acquire mirrors made of inferior materials, you may be forced to replace them frequently, resulting in a significant financial loss.
Glass Type Quality
The manufacturing technique and the quality of the raw materials used are the key determinants. Look for discrepancies in the mirror's make-up or if it distorts a reflection to spot an imperfect mirror. One Day Glass mirror is the ideal option if you're seeking a high-quality mirror.
Another thing to consider is that you can use any type of mirror in any room except for bathrooms. Any mirror will not suffice as a bathroom mirror. Ordinary glass is prone to becoming fogged and greasy easily. It's possible that standard mirrors can break when cleaning or getting out of the shower. When you take a hot bath, the temperature variations and pressure buildup may cause it to break on its own. Tempered glass must be used for bathroom mirrors, often known as toughened glass, a type of safety glass.
Laminated glass also works for bathroom mirrors.
Measurement
Before you go to the local mirror business or home décor store, Measure the area where you want the large round mirror to go. For you, not to be wasting time returning mirrors that don't fit or that don't suit the area. One Glass Day offers mirrors in a variety of sizes and frames to accommodate a variety of settings.
Installation
How the mirror is installed has an impact on the final appearance. To avoid complications in the near future, make sure to hire only professionals or qualified individuals.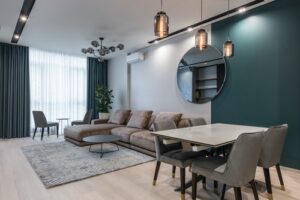 Contact Us
Accurate measurements, construction, and installation are all elements to consider when purchasing a quality mirror. Also, keep in mind that some factors such as form and size can alter your area. Large round wall mirrors, for example, can give the illusion of a larger size in a small location.
One Day Glass can create personalized mirrors that will enhance the beauty of your home while also giving it a distinct appearance. These personalized mirrors are available in a wide range of forms and sizes and will bring a unique touch to your home.
The mirrors can be cut to your exact measurements to ensure that they are a great match in your home. We can realize your dream. Contact us today and get a free quote.